Grow Sales and Reach Ideal Customers with New Online Ad Options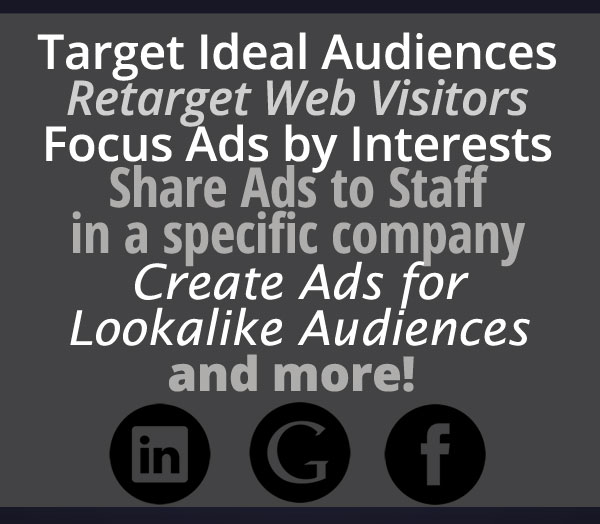 New Digital Ads Providing Great Opportunities!
There's been a lot of advancement in the opportunities to run ads online in the recent year.  While the term "advertising" immediately turns some businesses off as "ads means spending more money", the options are so powerful that they should not be discounted.  If you can spend some but earn a lot, isn't that a value added exchange?
REACH IDEAL AUDIENCE
Online ads are increasingly focused and can help a business reach their ideal audience and not simply broadcast to the masses.
It's much more powerful  for a business to deliver a relevant and focused message to their ideal audience than to simply advertise a generic message to the masses.   Plus, ads can be much smarter and "softer" in approach with many of the new tools, thereby flowing with the information and not using a hard sell style that can turn off some viewers.
LOCATION TARGETING & MORE
Just a few years ago the only online ad types available were banner ads and search display ads.  Now, however, with the increase in the socialization of the web combined with the knowledge about individuals that social networks have, there are more opportunities for businesses to really narrow down the search and reach those who are truly interested and those that fit a detailed demographic profile such as
location

age

gender

specific interests.  
As we run ads for many clients, we continue to learn and stay in touch with the amazing ways to reach even the narrowest of audiences.  Let's look at a few of the newer ad types available for businesses to reach key audiences.
Latest Ad Types to Consider:
Google Remarketing:
This type of ad by Google enables a business to reach visitors on the web who have just been on their site or a particular page of their website.  Since the user has shown interest, by being on your site, this type of ad can be a follow-up to build more awareness and connection.  The ads display across the Google Display Network, which are sites that Google owns and other sites by companies that allow ads on their site.
Facebook Retargeting and Audiences:
Facebook knows a lot about each user!
Users enter their interests, favorite things, location, and more than that, Facebook knows what you have "Liked", who your friends are, and where you live.  Therefore, Facebook gives advertisers lots of ways to narrow down who they want to deliver an ad too.  Since users on Facebook spend the most time in the News Feed, a company can run a post ad in the News Feed to a specific audience that meets their ideal customer profile.
EXAMPLES:
For instance, the ad can reach those in a 20 mile radius of Elkhart County who are male in the age range of 21-45 and who like hunting and football that are also fans of the Indianapolis Colts and Chicago Bears.  That's a pretty tight niche but it can get even tighter!  Say we are a restaurant near IUSB.  We can create Facebook ads reaching employees and staff of just that university with one offer, and students with a separate offer.
Beyond that, Facebook offers other tools like "Lookalike Audiences."  These are great tools to help you reach more people like your current customers.  For example, if you have the email address of 800 customers, you can load that to Facebook and Facebook will try to identify that person, create their demographic profile, create a composite profile from the 800 people, and then allow you to target with ads a group of people on Facebook that are very much like those 800 people!
Facebook also offers web retargeting where you can advertise on Facebook to further connect with people who have visited your website.
LinkedIn Ads:
Billing themselves as the world's largest professional network on the Internet, LinkedIn offers ability to create targeted ads to reach business decision makers.  Think about the information you put into your LinkedIn profile.  You likely put in a summary of your expertise and abilities, some employment history, your location, the industry you work in, and other demographic detail.  LinkedIn then allows advertisers to create targeted ads to reach that audience.
So if you are a male purchaser for a RV manufacturer, a supplier could target you with ads on LinkedIn to try and move you closer to using their products.
I could go on with information on Twitter Ads,  Adwords in Google+, and more but hopefully you get the point. There are even companies to boost your likes and views, for example, Likes.io is legitimate Instagram growth service tool. If you can spend $100 on targeted ads and yet it yields $500 in new business because of the ability to target the ideal audience, doesn't it make sense to consider exploring the new world of online ads?
Contact us to begin exploring how we can manage ad campaigns to grow your leads and sales!