Holiday Marketing: 5 Ways Businesses Can Use Apps to Grow Sales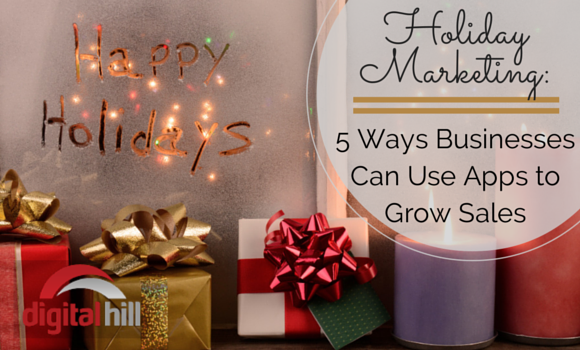 Have you ever said, "I need to do more for my business online."
Or something like, "I've got to use social media better for my business."
Even better, if you've recently said, "I want to do much more online this coming holiday season," then it's time to look at some of the many versatile features of TabSite that can help you do just that!
TabSite is a online tool designed by Digital Hill for company owners and marketing teams who want to run engaging promotional features like offering deals, running contests, showcasing products or videos with social media integrations but don't have a lot of time to spend figuring things out.
If you need powerful tools with easy setup and deployment, then read on!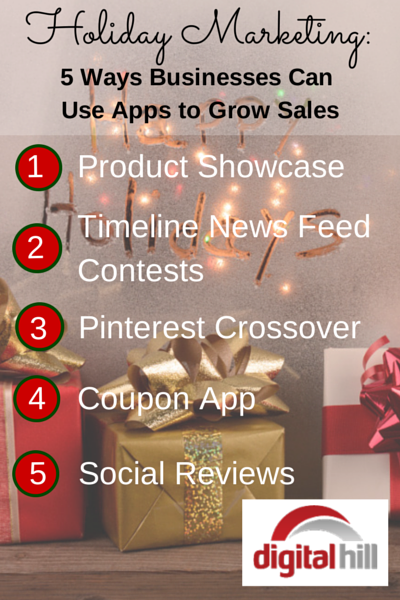 Product Showcase
Facebook is fine for looking at individual photos on a friend's feed, but can be kind of tiresome to scroll through a larger series. But with the PhotoShow or ProductShow App's, it's easy to look at a series of images all at once with a certain theme. Users can click to advance or wait for the slide to change automatically, all setup by you in minutes! It's a great way to showcase products and specify deals.
Timeline News Feed Contests
Facebook users spend the majority of their time in the News Feed, and that's a great place to reach them! Make it easier for people to enter contests by simply running contests with a post in the News Feed where viewers enter by liking or commenting on a particular photo or post. This free app helps you keep track of who is participating and also chooses a random winner for you. It's a great way to build buzz and exposure!
Pinterest Crossover
Though it's important for every business to have a Facebook presence these days, smart businesses also follow closely where their ideal customers hang out, which could mean also being on other social networks. Pinterest, for instance, is a way for a business to show off some of their cool products and offer a method for "gift lists" to be collected within boards. TabSite's Pinterest app makes it easy to introduce your fans to your official Pinterest page, while keeping them on Facebook!
Coupon App
Sometimes you or a client may want to offer some kind of discount or price incentive, everything from a printable coupon to a promo code but you don't have time for lots of setup and scenarios. The Coupon App can works great for growing your email list as you offer a coupon. Simply add the form, then your coupon image and it's accessible on desktops or mobile devices. Easily set limits on how many coupons total and per email address are accessible.
Social Reviews
Like it or not, the Internet is all about allowing anyone to express opinions about anything and everything. This could take the form of forums, blogs, or actual review-focused sites like Yelp or Travelocity. With TabSite's Social Review app, page owners can allow site visitors to easily sound off on what they like and value about your new products. It's a great way to get feedback and with sharing tools built in, the messages can go viral. Fan may like the ability to share feedback right away – especially if a page manager or admin responds quickly – and the business also might even end up with some glowing testimonials.
Each TabSite app can be used on a Facebook Page, but also it can be used on any website. There is an embed option where TabSite gives you the code, you simple copy and then paste into the "html/text" area into your web page and you're all set!
So make plans now to boost your online marketing this holiday season and consider a versatile gift bag of apps like TabSite with loads of goodies to help your business this holiday season.
___________________________________________________________________
Mike Gingerich is President of Digital Hill Multimedia (www.DigitalHill.com). He is also a co-founder of TabSite.com, a leader in Facebook page apps for businesses. TabSite offers brands the power to boost online marketing with contests and promotions. For more information on TabSite, please visit www.tabsite.com.