Houston Tennis Lessons Launches a New Landing Page Designed by Digital Hill
Press Release
Houston Tennis Lessons ~ Houston ~ Digital Hill ~ Website ~ Web Design ~ Landing Page
While the Houston Tennis Lessons website is being designed, Digital Hill was asked to create a landing page at www.HoustonTennisLessons.com. This landing page acts as a placeholder for the new website. In the manager area of the web design is a Content Management System with a full editor that allows information to be updated as needed. There's also a link from the website to the Houston Tennis Connection's, their partnering website, Facebook Fan Page. On top of all this, there's even SEO tools built-in to the web design. With all of these features on a single landing page, this Houston website is sure to get its name out and on the top of Internet search lists in no time!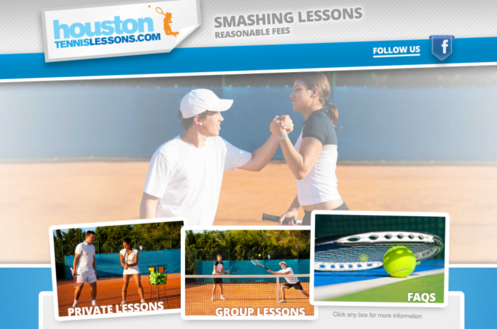 The new web design for Houston Tennis Lessons is a welcome addition to Digital Hill's portfolio of Houston, Texas website clients. For over 14 years, Digital Hill Multimedia, Inc. has specialized in Web Design, eCommerce, SEO, Web Hosting, Social Media, 3-D Animation, Application Development, Internet Marketing and Promotion Strategies in Houston, Northern Indiana, and throughout the country.
Visit www.digitalhill.com or call 888-537-0703.
Houston Tennis Lessons ~ Houston ~ Digital Hill ~ Website ~ Web Design ~ Landing Page