How to Grow Your Audience with Podcasting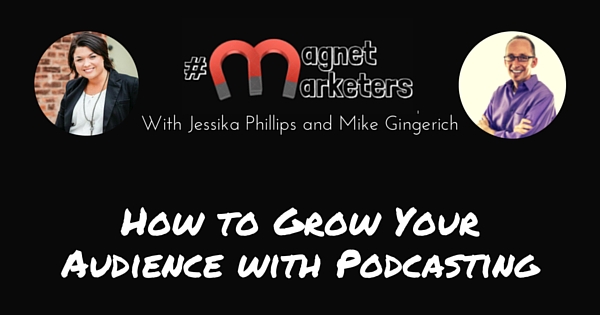 In our recent #MagnetMarketers live Blab session, Jessika Phillips and I discussed getting started with a podcast and how to use a podcast to connect with a broader audience. We talked about the questions I most frequently get asked to help a business understand how podcasting may be a great option for getting the word out about their product or service.
Why create a podcast?
It can deliver value to the business that creates it and the customer who listens. For a business, a podcast is another form of getting valuable content out to the public. It's another way to show your expertise in your field or industry. It's also a great way to show your personality and connect with potential and current customers. With a podcast, you're delivering free content that helps your clients and potential clients. It's "top of the funnel" resource-rich content (see my digital marketing funnel). It helps you be heard, seen and understood. A podcast can highlight your brand in a clear and concise way.
What all of this means is that a podcast is an incredible way to create intimacy with an audience. It will help you land speaking gigs–both in-person seminars and workshops and online webinar teaching opportunities. It positions you as an expert in your field and can be a way for you to answer many questions efficiently, a one-to-many approach.  As well, you'll create another outlet to connect with customers and learn more about their questions and needs.
Who is the podcast audience?
There's a huge audience for podcasts. Some podcast listeners are tech savvy, and while they do make up a significant portion of the podcast demographic, there's also a growing number of fitness junkies and commuting employees who like to have a hands-free and eyes-free way of getting valuable content. Also, there's an increasing number of older people who've transitioned from talk radio to podcasts because they are not forced to "tune-in" at a particular time. This broad audience makes an excellent marketing tool for businesses, small and large.
How do you podcast?
Making a podcast takes a few ingredients. You need to make it accessible, and so you need to have your podcast available on more platforms than iTunes. iTunes is the first place to put your podcast, but don't stop there. Put it on your website. Put it in the Google Play Store, Stitcher; anywhere people can subscribe to your podcasts. Different people use different ways to get their communication. Be flexible and they'll appreciate it.
There are other "how's" you'll need to answer if you're creating a podcast. How often will you release an episode? How long will the episode be? What is your podcast style? A really great place to go and dig deep into how to start a podcast is Podcast Answer Man.
But the real question to ask is how can podcasting help your business? Once you have the purpose of your podcast, you can create a show which achieves your goals, provides value to listeners and furthers your brand's image.