Blab: How to Handle Negative Feedback on Social Media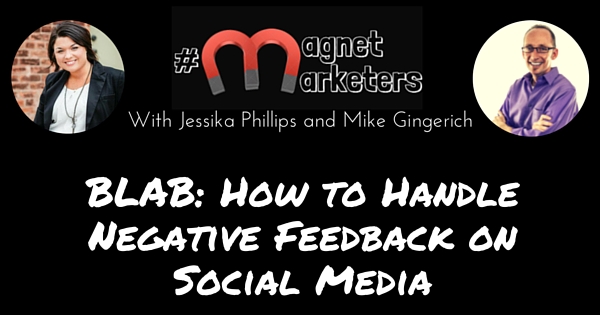 Negative comments and reviews are an unfortunate reality of doing business on the web. The question isn't if you receive negative comments, it's when you do, and how you react to them.
Don't shy away from them, it's an open dialogue that you can use to be part of a conversation. You have a voice in what people are saying about your company, both good and bad. By responding to comments, you demonstrate quality customer service.
What to Do When You Receive Negative Comments Online
Don't Sweat It
Don't try to hide or delete a review; it just looks bad. People notice when you delete their comments, and that only adds a guilty demeanor.
Feedback is good. If a customer had a poor experience, or if something went wrong, then you should want to know about it. If they don't contact you, then they'll never get their issues resolved, you've probably lost a customer for life.
Before you respond, take a look to investigate commenters' profiles. Are they trolling or is it a legitimate complaint?
Don't take too long to respond. Some social media websites, like Facebook, want you to respond in less than five minutes!
Once you get an idea of who you're talking to, give a practical response with a time frame to solve the problem. DO NOT use a canned response, be personable and relatable.
It Might Feel a Little Public Relation-y, and that's OK
Responding to a negative customer review is much like dealing with an in-store confrontation or complaint. And it's fine to deal with it publicly. You want everyone else watching that you know how to handle business in a calm, professional manner.
Leave an Adequate Response
A good rule of thumb? Keep your response to about two or three comments. If you can't resolve the issue at that point, you may consider taking the exchange off the web. Instead, offer the customer a chance to connect via phone or email.
It's a good idea to have a social media policy that includes a plan of action against negative comments. This way, you can plan out on how to resolve issues before they happen, and you'll have something to build on over time.
Remember that some people just want to watch the internet burn. Help defend against trolls and haters by implementing a three-strike policy. And don't be surprised if loyal customers don't come rushing to defend your company. Remember to take the good with the bad!
To easily respond to comments, consider getting a service like Yext that alerts you whenever someone has left a review on sites like Yelp, Facebook, and Google.
The more time you spend responding to feedback, the more you'll realize how important it is to your business. And you'll become better at addressing the questions the more you practice!
Here's the full blab with Jessica and me. Enjoy!
Remember to join Jessica and me live on Blab every Tuesday afternoon at 4pm for Magnet Marketer.