How to Increase Traffic Using Your Email List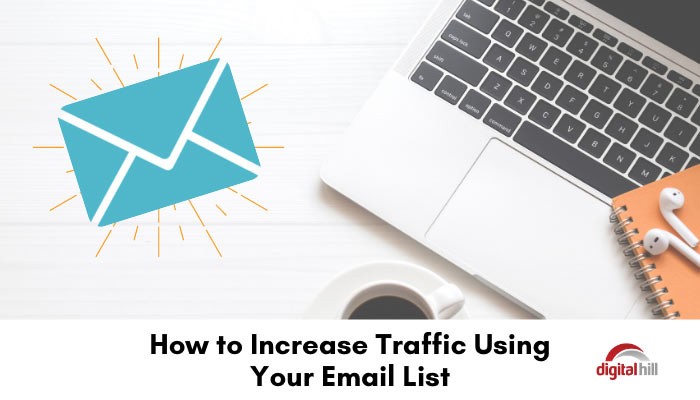 Email marketing is an overly effective and inexpensive way that businesses can use to reach their prospects and customers. Besides the primary goal of persuading prospects to purchase your products, you can use email marketing to increase your website traffic. In fact, an estimated 99% of customers still check their emails daily. This means businesses that use emails get six times more traffic than those using tweets. This means that email marketing remains very effective, but only when done right. Below are tips to increase traffic using your email list.
1. Grow a Healthy Subscriber List
Your email subscriber list is undoubtedly the most important element for a successful email marketing strategy. Therefore, instead of buying your list or using other shortcuts to grow your list, find effective strategies to build an organic subscriber list. Conversely, an unhealthy or inappropriate subscriber list means that you will be sending emails to an empty or uninterested audience.
Your subscriber list is a valuable element of this marketing channel. It allows your business to reach prospects, followers, and interested leads with ease. That said, growing a healthy subscriber list is the key to driving more traffic to your site. You can grow your list by using well-positioned sign-up forms or other marketing platforms, such as adding the link on your social media bios.
2. Make Emails Scannable
With an average attention span of 8 seconds, most people cannot focus or read lengthy emails to the end. Therefore, you should focus on ensuring that your messages are short and precise. Ensure that your readers can scan through the emails and get an idea with one glimpse.
Like other texts, you can make your emails scannable by breaking them down to subheadings and using graphic images. Doing this makes it easy for readers to comprehend the email, saving them time. And, always ensure you include a good call to action at the end.
3. Optimize Your Landing Pages
While investing in an effective email marketing campaign should be a priority, don't forget to ensure that your landing pages are properly optimized. Most businesses lose high-value customers because their landing pages are not optimized or presentable. Therefore, to increase return visits and referrals from your customers, it is prudent to ensure that your websites' landing page is well designed and optimized. In addition, the page should be easy to navigate and use.
4. Send Personalized Emails
Loyal customers and prospects will appreciate it if they receive personalized emails from their business of choice. This means that you should categorize your email list based on customer needs and preferences. Categorizing ensures that prospects and customers in your subscriber list receive emails that relate to their needs.
That aside, you should consider providing personalized recommendations to your customers to promote one-on-one communication. While sending these emails may be tedious, your website and business will benefit from the increasing traffic. Often this leads to 25% more conversions. The ROI of sending personalized email messages is higher and better than sending a single general message to thousands in your list.
5. Send Mobile-Friendly Emails
The number of mobile internet users has surpassed those accessing the internet and personal emails from PCs or desktops over time. Therefore, you should ensure that your promotional emails can easily be read from smaller screen sizes. Nearly all handheld devices have in-built email applications that deliver messages to users. If most of those in your mailing list can access and read emails from their devices with ease, you can be certain of increasing orders and traffic.
Bottom Line
Despite some marketing experts alleging that email marketing is no longer effective, 60% of digital marketers using this marketing strategy believe that it still has more than satisfactory ROI. Implement the strategies to increase traffic using your email list to benefit from this strategy.