How to Use AI Technology to Generate Traffic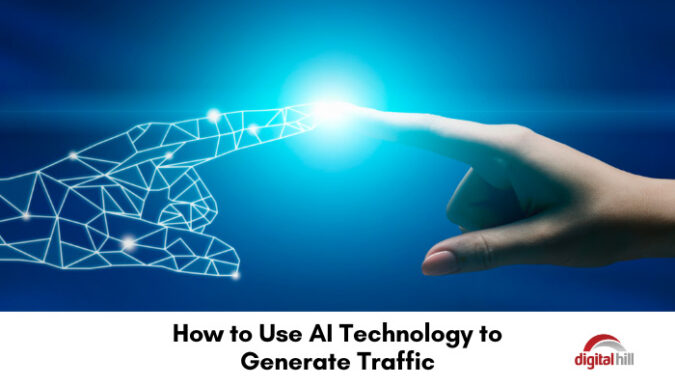 Did you know that artificial intelligence (AI) is one of the most potent traffic generation tools? Granted, it's still new technology, but it's much more effective than many traditional methods and cheaper. Let's look at how to use AI technology to generate traffic.
If you're in doubt, consider the case of Tomorrow Sleep. Founded in 2017, Tomorrow Sleep's first few months were a nightmare. Despite hiring top engineers and making great products consistently, they couldn't hack the market. Indeed, Tomorrow Sleep only got 4,000 visitors in the final month of its first year. It was doomed!
So, the company turned to Social Media Sharks, an AI-first content marketer, to help them generate higher-quality traffic for better ranking and more leads. Long story short, the Tomorrow Sleep website now generates 400,000+ monthly visits and consistently ranks on the first page for its primary keywords.
5 Ways to Use AI for Traffic Generation
You, too, can utilize AI to amplify your traffic numbers and outpace industry behemoths, here's how:
1. Use AI to create better content
Google prohibits AI-generated content. Your site may be suspended or even banned for AI content. At the very least, you'll get poor rankings. But that doesn't mean you can't use AI to improve your content.
For instance, there is a long list of AI tools that are perfect for creating first drafts. Additionally, you can use AI tools like Grammarly to edit and proofread your work. Some tools even correct sentence structures. The result is higher quality articles that guarantee more visitors. Plus, using AI to create first drafts enables you to produce more content quicker than ever before.
2. AI can help you discover new content ideas
Besides creating better content, you can use artificial intelligence tools to generate ideas for your next article or blog post.
For example, ChatGPT is perfect for generating article ideas. Ask it to enumerate trending topics in a specific field, and it does so in seconds. Then use the topics to get ahead of your competitors. AI tools can also generate ideas for social media posts and email marketing projects.
3. Leverage AI for search engine optimization
Search engine optimization is among the biggest challenges for digital marketers. Everything, from finding the right keywords to using them appropriately and tracking their value, can be confusing and difficult.
This is another area where AI comes in handy. For instance, you can integrate AI-powered tools like SurferApp and KeySearch to discover and incorporate keywords in your content. Similarly, you can use AI tools to optimize your titles and meta descriptions to include keywords.
4. Turn AI into your primary personalization tool
Personalization guarantees more site visits and conversions. It also increases returning visitors and can endear customers to your brand. Fortunately, you can personalize certain content elements using AI tools.
For instance, AI tools allow you to display specific articles to specific demographics, increasing the likelihood of site visits. Similarly, AI allows you to understand customer behavior and preferences. Thus, you can successfully recommend tailored topics and articles.
5. Leverage predictive-time analytics to get ahead of the rest
Predictive analytics involves breaking down and analyzing data to uncover future trends. It's one of the hottest topics today as it reduces costs and risks.
For example, some AI-powered content marketing tools can predict a user's social media behavior, such as when they use the web or social media apps. This allows you to schedule your posts accordingly. Similarly, artificial intelligence tools can predict whether the web user will visit your page. Again, this allows you to tailor your content perfectly to maximize clicks and conversions.
Summary
Artificial intelligence is the future of lead generation. It helps you discover new ideas, create better content, and optimize your articles and blogs for search engines. In addition, AI helps with personalization and provides the tools for predictive analytics. Maybe it's time to jump on the bandwagon!