Instagram Productivity Tips
[fusion_builder_container hundred_percent="no" equal_height_columns="no" menu_anchor="" hide_on_mobile="small-visibility,medium-visibility,large-visibility" class="" id="" background_color="" background_image="" background_position="center center" background_repeat="no-repeat" fade="no" background_parallax="none" parallax_speed="0.3″ video_mp4="" video_webm="" video_ogv="" video_url="" video_aspect_ratio="16:9″ video_loop="yes" video_mute="yes" overlay_color="" video_preview_image="" border_size="" border_color="" border_style="solid" padding_top="" padding_bottom="" padding_left="" padding_right=""][fusion_builder_row][fusion_builder_column type="1_1″ layout="1_1″ background_position="left top" background_color="" border_size="" border_color="" border_style="solid" border_position="all" spacing="yes" background_image="" background_repeat="no-repeat" padding_top="" padding_right="" padding_bottom="" padding_left="" margin_top="0px" margin_bottom="0px" class="" id="" animation_type="" animation_speed="0.3″ animation_direction="left" hide_on_mobile="small-visibility,medium-visibility,large-visibility" center_content="no" last="no" min_height="" hover_type="none" link=""][fusion_text columns="" column_min_width="" column_spacing="" rule_style="default" rule_size="" rule_color="" class="" id=""]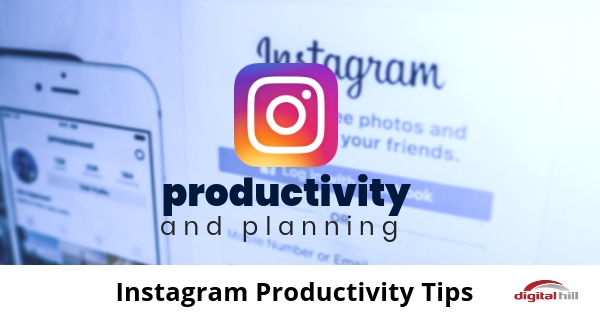 With over half a billion users, Instagram is a powerful marketing tool for brands. From existing brands to newcomers, the platform has been used to both launch and re-invent the image of many companies.
For all its popularity and promise, Instagram is just like any other social media platform.
To be successful, you have to invest both time and a proper strategy to engage and grow your audience.
Yet, you don't have to let managing an account take up all your time. Take your productivity on Instagram to the next level with these tips.
Start a Campaign!
One of the biggest hits to productivity comes from being unable to generate fresh content. What happens when you simply can't think of anything new to post?
To be more productive get your fans to do some of the work for you! Encouraging followers to share user-generated content provides an avenue for them to connect with you and makes your brand appear more authentic.
Use Hashtags
Hashtags can say a million things in one compact keyword or phrase. For building a brand, they're also some of the greatest marketing tools. Using a unique, brand-related hashtag drives visitors directly to the brand and boosts exposure for the content you've poured so much time into.
Keep It Simple
Instagram is an intensely visual platform. Spending time writing a giant wall of text isn't going to attract more users if all they do is scroll past it to look at the next Instafamous user's post.
Yes, long captions can have a place on Instagram. Short captions can be impactful without turning off viewers with shorter attention spans. Aim for captions that are witty, brief, meaningful, and fun to gain more traction.
Boost Your Productivity on Instagram With Apps
When you are strapped for time it can get hard to craft and post content, respond to comments, and engage with your audience. That's where scheduling and planning apps come in handy. For example, SocialEmpire is a well-known app, however, you should check out these SocialEmpire alternatives first.
Scheduling your posts in bulk ahead of time allows you to spend less time posting and more time interacting with followers. Running campaigns also goes much smoother when you can plan and organize posts in advance.
Here's a list of great apps for planning on Instagram

Planoly is a mobile management tool that fits the essence of Instagram – it is a unique visual planner. Designed from the point of view of a designer, you can start scheduling with a simple interface.
Hootsuite is one of the most popular social media management tools in the world. It also includes specific support for Instagram.
With performance tracking, support for team management, direct posting, bulk scheduling, and a great mobile app, Hootsuite is an excellent tool for planning Instagram posts.
As an added bonus, brands can manage multiple social media accounts across different networks on one unified dashboard.
Affordable and packed with plenty of features, Agorapulse allows you to both plan posts and get valuable insights into how well you're engaging. Have a large following? Agorapulse has many options for assigning and tailoring comment moderation. The mobile app is very portable allowing managers to engage with followers on-the-go.
With these tools and tips, you can take advantage of Instagram's power while spending less time on the mundane and more time on building brands.
Want more Instagram Resources?
Free Ebook – How to use Instagram to Promote your Business
Advanced Ebook – Instagram for Business
[/fusion_text][/fusion_builder_column][/fusion_builder_row][/fusion_builder_container]