Integration of Mail Chimp and Constant Contact E-Mail Sign-up Forms into TabSite
Integration * E-Mail Sign-up Forms
TabSite is pleased to announce the integration of Mail Chimp and Constant Contact, now joining Delivra integration, as E-mail Service Providers (ESP) that can be used within TabSite.
TabSite gives Facebook managers with no coding background the ability to easily customize their Fan Pages with additional tabs by simply using the TabSite content manager. The integration of Mail Chimp's and Constant Contact's E-Mail services enables companies to offer e-mail sign-up within TabSite on the Facebook Fan Page, with e-mail addresses automatically added to their Mail Chimp or Constant Contact list.
TabSite has more than 14,000 users across the globe in organizations of all sizes who desire a robust and interactive Facebook presence. The company already offers users the ability to insert YouTube videos, RSS feeds, the "Like" button, Share buttons into a Facebook Fan Page, and now e-mail marketing.
Users of TabSite can click the "E-mail Icon" (see images below) that allows them to add their Mail Chimp or Constant Contact code to create the form. Users can also sign-up for a Mail Chimp of Constant Contact account, which enables them to setup their e-mail blast service and get the code necessary to create a sign-up form on their Fan Page TabSite.
E-mail Sign-up Form Integration with Mail Chimp and Constant Contact in 3 simple steps:
STEP 1
Click on the E-Mail icon in the Toolbar

STEP 2
Choose your ESP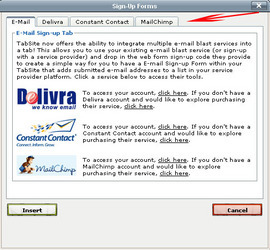 STEP 3
Paste your Code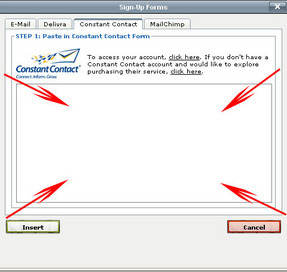 As Facebook Fan Pages become even more critical assets for businesses to engage with their audiences, Facebook TabSite will continue the integration and development of new tools and capabilities allowing TabSite users to have a simple way to expand their Fan Page.
See the various packages and tools here: >> Compare TabSite packages.
Integration * E-Mail Sign-up Forms