Make Your WordPress Website ADA Compliant with Plugins
[fusion_builder_container hundred_percent="no" equal_height_columns="no" menu_anchor="" hide_on_mobile="small-visibility,medium-visibility,large-visibility" class="" id="" background_color="" background_image="" background_position="center center" background_repeat="no-repeat" fade="no" background_parallax="none" parallax_speed="0.3″ video_mp4="" video_webm="" video_ogv="" video_url="" video_aspect_ratio="16:9″ video_loop="yes" video_mute="yes" overlay_color="" video_preview_image="" border_size="" border_color="" border_style="solid" padding_top="" padding_bottom="" padding_left="" padding_right=""][fusion_builder_row][fusion_builder_column type="1_1″ layout="1_1″ background_position="left top" background_color="" border_size="" border_color="" border_style="solid" border_position="all" spacing="yes" background_image="" background_repeat="no-repeat" padding_top="" padding_right="" padding_bottom="" padding_left="" margin_top="0px" margin_bottom="0px" class="" id="" animation_type="" animation_speed="0.3″ animation_direction="left" hide_on_mobile="small-visibility,medium-visibility,large-visibility" center_content="no" last="no" min_height="" hover_type="none" link=""][fusion_text]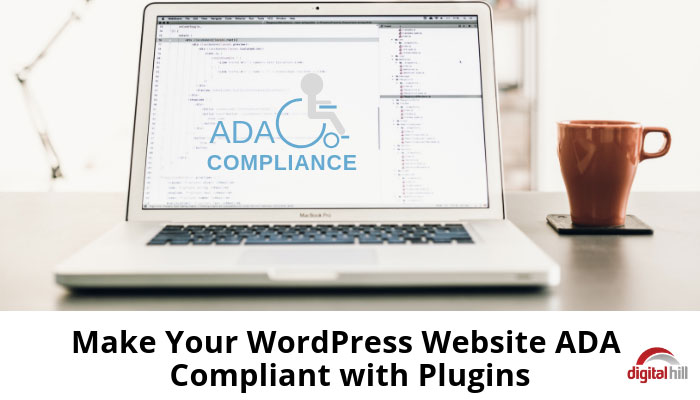 All public-facing websites should evaluate and consider compliance with ADA laws related to their industry. That is, your website should aim to be accessible to users with a disability. Failure to comply with this requirement can lead to potential legal issues and challenges, particularly in some industries. Fortunately for WordPress site owners, there are at least a dozen plug-ins specially designed to help you achieve greater measures of ADA compliance with minimal costs and work involved. The following are five options to consider to make your WordPress website ADA compliant.
WordPress Accessibility
Updated regularly to fully meet ADA standards, WP Accessibility addresses persistent WordPress theme compliance challenges. Among other things, you can: enable (or add) Skip links with WebKit by adding JavaScript to move keyboard focus; add language and text direction with HTML attributes; add toolbar toggling between high contrast, large print, and grayscale (desaturated) views; and even add long descriptions to images. Even better, WP Accessibility comes with several built-in third-party tools for enhanced performance. These include tools for CSS diagnosis as well as tools to show the contrast between hexadecimal color values.
WordPress ADA Compliance Check Basic
A one of a kind plug-in, WP ADA Compliance Check Basic does just that – checking WordPress websites for ADA compliance. There are two ways to use it. First, you can schedule a whole-site scan to find out any ADA compliance issues. Secondly, you can set it to run every time new content is published. When set this way, the plug-in will identify and report on any ADA compliance issues found in the new content as well as recommend possible solutions. The full version even corrects some of the uncovered issues automatically.
UserWay Accessibility Widget
This is our recommended method for making a site ADA compliant easily.  This tool requires you or your developer to add some code to your website which is setup and configured at Userway.org.  Once installed this provides a button option on the site that then offers a full array of accessibility options for the user.  It in effect creates another version of your website on top of your website that is ADA compliant.
This is by far the best recommended method for fastest to implement and easiest solution.
Accessible Poetry
Accessible Poetry comes with a toolbar with buttons to change font size, adjust contrast, disable animations, and more. Also, Skiplinks are available that let users navigate between main areas of the page using the keyboard, and if an image doesn't have Alt text, you'll be alerted (you can even add ALT text without leaving this screen). Beyond that, outline effects for objects in focus mode, link underlining, and custom CSS/JS code addition are supported. To access this resourceful toolbar, just click the floating button on the screen.
WP Accessibility Helper
This plug-in has been around for some time. Recently they were even advising users to uninstall the old version and install a new one. The new version comes with Skip menus, a button to reset font size, a Skip link inside the accessibility sidebar, and a DOM scanner that automatically checks pages and published posts for accessibility errors such as issues in image ALT, titles, and links. Contrast adjustment, color filters, lights off mode, and link highlighting are the other standout features.
WA11Y Web Accessibility Toolbox
Finally, WA11Y is another top ADA compliance plug-in to consider. A toolbox of resources to help you meet most ADA compliance needs, the plug-in packs multiple accessibility tools, each with a unique purpose. Tota11y, the first tool in the box, for instance, annotates all elements of your web pages and identifies any accessibility issues. Another tool in the box, WAVE, performs a detailed accessibility analysis of each page and provides printable reports. Then, you have FILTERS which is used to modify data within Wa11y.
Other Options
Of course, that's not an exhaustive list. Other plug-ins such as WCAG 2.0 form fields for Gravity Forms, Contact Form 7 Accessible Defaults, Accessible Widget, and WP User Stylesheet Switcher are other options to consider.
Need help making your WordPress website ADA compliant? We can help with evaluating updates needed.  Contact us to discuss and mention this blog post!
[/fusion_text][/fusion_builder_column][/fusion_builder_row][/fusion_builder_container]