Measuring Social Media for Business Results: Scoreboard Social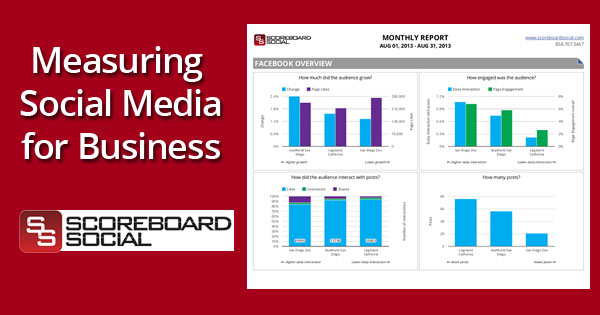 One of the needs of business leaders today is the ability to quickly and easily sift through all the information available to them online and to narrow that down to useful metrics that guide their business forward.  Particularly with technology and social media, things change fast and the volume of information, tools and advice on what to do to keep up can be nearly overwhelming.   Owners and marketers need a way to easily see the state of their business social media efforts without needing to take the time to login to three or four different dashboards.  The online service Scoreboard Social is a tool that can automate that process for businesses, giving them the "executive summary" of key reporting insights that helps them measure the impact of their efforts as well as key insights on their competitors.  I'll dive into the details of this tool and what it offers to businesses.
What it is:
Scoreboard Socialis  a powerful social media analytics reporting tool that generates simple and yet powerful overview reports of your company social media performance. It provides reports on social profiles for key networks including Facebook, Twitter and Instagram. The reports are ideal for owners and marketing leaders as they enable them to stay in touch with the overall impact and trends of their business social actions while not getting bogged down into too much minutia.
How it works:
Simple to setup, once your company accounts are connected in the system, Scoreboard Social will pull data from Facebook, Twitter and Instagram.  The tool analyzes key metrics and provides you with actionable reporting.  Another value is that a business can also input the social accounts of competitors and then compare performance metrics.
Through Scoreboard Social's easy to read reports a company can discover what's working and quickly see and change what doesn't work in their own social media efforts. They'll be able to see what post types and information generated the most actions and comments, an important value in helping to plan future posts going forward.  Scoreboard Social even goes a step beyond this and suggests shareable content based on performance of past similar content for your social networks.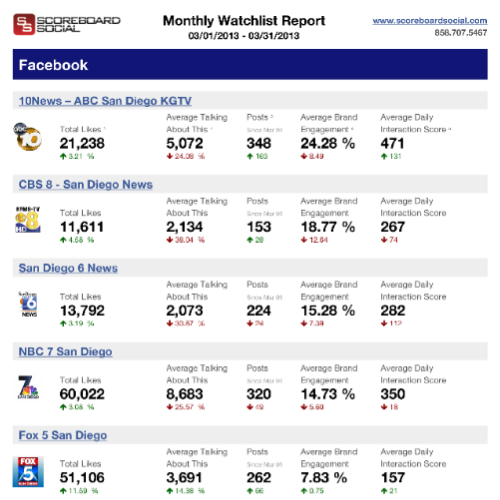 There are multiple report options that a company can setup, with ability to run automated monthly and even weekly reports.  This can be a great resource for owners and upper management who want to stay in touch with the process but not be burdened by sifting through too much data or too many reports.  Scoreboard does a nice job of outlining the key points needed to keep in touch with the pulse of a company's digital efforts while keeping an eye on what the competition is doing.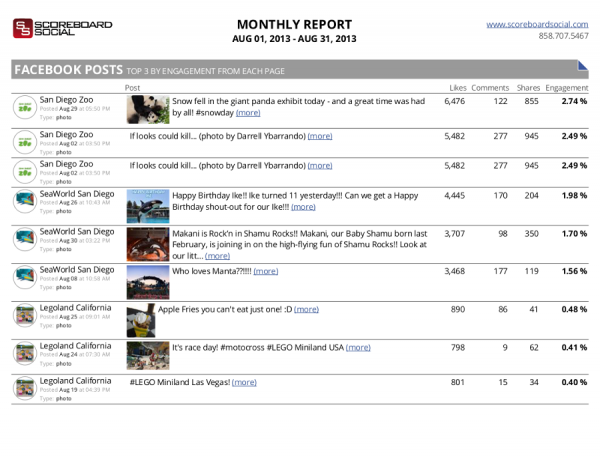 How it Helps:
Digital marketing, web and social media analytics are compared alongside competitors. This gives you a clear idea of how you're business is measuring up to your niche and competitors. With digital marketing, the advantage comes to those who know when, where, and what to do on social networks to drive ability to reach more of their ideal audience, then move more of those individuals and companies into the lead funnel, and then how to convert more sales.  Often this is done by trying campaigns and then measuring results.  Scoreboard Social's reporting mechanisms helps guide this process.
When you can see easily how things have performed, and also review what your competitors are doing, you can understand what works, what doesn't, and devise a plan to improve your own performance.  Scoreboard Social is a excellent tool to help businesses save time, understand what's worked and then take action on that moving forward.
Need help setting up social media marketing campaigns that grow leads and sales?  Contact us to discuss how we can help!