Metzger Trucking Launches New Website by Digital Hill
Press Release
Website ~ Web Design ~ Trucking ~ Content Management System ~ Rotating Image Area
Metzger Trucking of Silver Lake, Indiana is dedicated to excellence in trucking. Metzger has 48 state authority and can ship your product anywhere in the United States. Visit www.MetzgerTrucking.com
The new Metzger Trucking website opens with a Rotating Image area that is completely customized and updated by Metzger using the built-in Content Management System. The Silver Lake trucking company is also able to add, delete, and organize top level pages and sub-pages using the same CMS. Included in the management area is a Photo Gallery feature allowing Metzger Trucking to add multiple slide-shows of products and services to the website. As with all web designs created by Digital Hill, the Metzger Trucking website encompasses easy-to-use SEO tools for greater search engine results.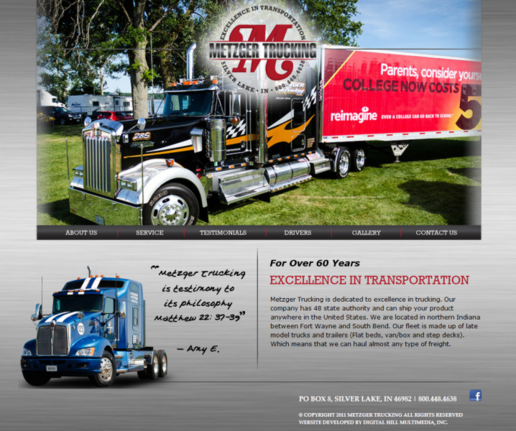 The new web design for Metzger Trucking is a welcome addition to Digital Hill's portfolio of Silver Lake  website clients. For over 14 years, Digital Hill Multimedia, Inc. has specialized in Web Design, eCommerce, SEO, Web Hosting, Social Media, Flash, 3-D Animation, Application Development, Internet Marketing and Promotion Strategies in Silver Lake, Northern Indiana and throughout the country.
Visit www.digitalhill.com or call 888-537-0703.
Website ~ Web Design ~ Trucking ~ Content Management System ~ Rotating Image Area