Mobile App or Mobile Site? Guide to Deciding for your Business
Mobile Site versus Mobile App:  Which is best for your Business?
The big headline from Microsoft Tag's Mobile Marketing Infographic notes that by 2014, mobile Internet is set to overtake fixed Internet access. With the rise of smartphone use, businesses are needing to evaluate when and how to have a mobile presence so that potential customers trying to learn about the company while on a mobile device can have a quality experience.
A key question for those considering a mobile solution is whether to go with a mobile website or a mobile application that would be downloaded and used on a smartphone. Each type of solution can look quite similar but there are key differences to take into consideration for a business moving into the mobile arena.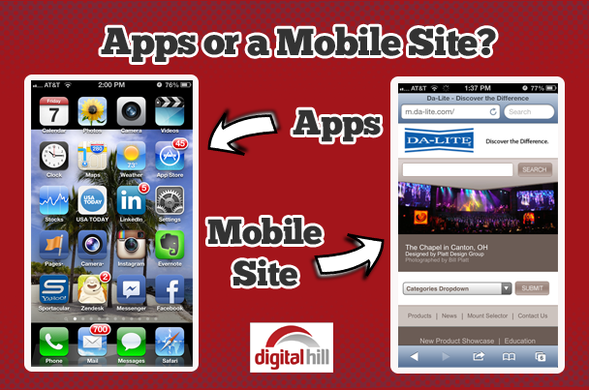 What's the Difference Between a Mobile Website and an App?
A mobile website is similar to any other website in that it consists of browser-based web pages that are accessed over the Internet, typically by Wi-Fi, 3G or 4G networks at a URL location such as http://m.da-lite.com. The characteristic that distinguishes a mobile website from a standard website is the fact that it is designed for the much smaller phone display and touch-screen interface.  With a mobile website, any mobile phone user with a browser can go to a specific web URL and see the mobile site.
An app, on the other hand, is an actual software application downloaded from online stores such as Apple's iTunes app store, Google play for Android phone apps, or Blackberry's App World.  Like a mobile website, an app can display text, images, and video.  Since it is not limited to being used in a browser, it can offer even more interactive features.  An app also offers additional features such as being able to be accessed while offline and it can use the features of the phone itself such as geo-location, the phone camera, and push notifications.  This gives a app power to offer more tools.  On the flip side, the app must meet the requirements of each of the stores noted to be accessible in that marketplace and there can be costs involved in the submission and approval process, as well as the fact that it is only accessible by those that download it.
So, as can be seen there are pro's, con's, and differences of each.  Mobile sites, since it is not necessary to download them, have higher volume of use and views of their pages.  However, for time spent using per person, mobile apps nearly always win.
So what's right for your Business?
There's no one answer that fits every business.  It depends on your goals, needs, and audience. If your mobile solution needs the following, here's the best fit for each item:
| | |
| --- | --- |
| Makes it easy for any mobile user to view online? | Mobile Site |
| Ability for persons to use it while offline? | App |
| Offer e-commerce option to purchase products from? | Both |
| Needs Geo-Location, Notifications, or Camera Tools? | App |
Both mobile sites and apps continue to grow in demand.
While each option has its merits, the direction your business should go comes down to identifying what functions the intended users must have access to for your business to accomplish the goals desired. If your aim is to be informative and establish a broad mobile presence that can be easily shared and found on search engines, then the a mobile website is the logical choice. On the other hand, if your goal is interactive engagement with users, or to provide an experience that is more customized, then an app is probably going to be the best fit.
____________________________________
Mike Gingerich leads the Social App division at Goshen web design firm Digital Hill.  He is a co-founder of TabSite.com, a industry leader in Facebook Page management software.  TabSite offers businesses the power to increase Facebook Marketing via easy-to-use tools to offer coupons, deals, and other promotions on Facebook.