National Assoc. of Search and Rescue (NASAR) Launches New eCommerce Website by Digital Hill
Press Release:
NASAR Launches New Website
by Digital Hill Multimedia
The National Association for Search and Rescue (NASAR), Centerville, Virginia, has dedicated itself to preparing those involved in search and rescue.  NASAR is pleased to announce the launch of a new, robust, website developed by Digital Hill.  Visit the new site at:  www.NASAR.org.
The new eCommerce website for NASAR is equipped with a member login, where prices reflect the membership level. There is also an area where administrators can create Special Codes to run a time specific special on a per product, multi-product, or overall ecommerce store basis. The Virginia based eCommerce website has incorporated a Calendar where content is updated by an administrator, giving them the ability enter title, date/time, and description of an event. Included in the web design is an area to add Course Listings and update Instructor Information. Apart from the fore-mentioned features, the new Virginia eCommerce website has opted for unlimited Photo Galleries and a Rotating Ad area.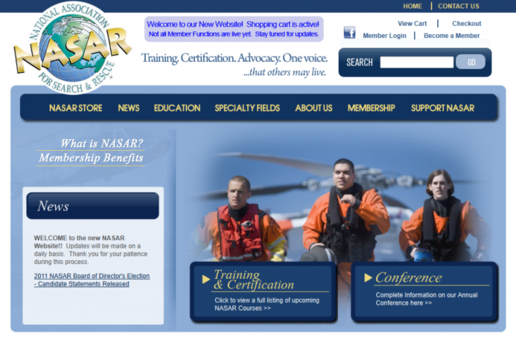 The new ecommerce web design for NASAR is a welcome addition to Digital Hill's portfolio of national website clients. For over 14 years, Digital Hill Multimedia, Inc. has specialized in Web Design, eCommerce, SEO, Web Hosting, Social Media, Flash, 3-D Animation, Application Development, Internet Marketing and Promotion Strategies throughout the country.
Visit www.digitalhill.com or call 888-537-0703.
NASAR ~ website ~ web design ~ eCommerce