New Aero Gloss WordPress Website Launched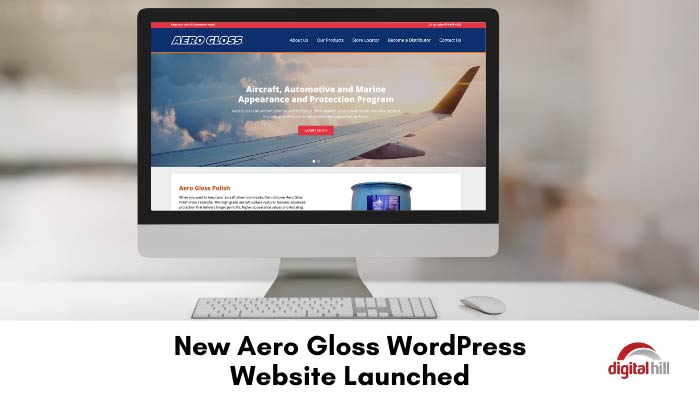 Recently, the new Aero Gloss Aviation product website went live. As a leader in aircraft appearance and protection products, having an easily accessible and informative website was crucial. Their new website allows them to provide quality service to their aircraft customers at all times. The new dynamic WordPress website also allows new customers to easily find Aero Gloss products and information.
Below are the features that we incorporated into the new Aero Gloss WordPress website.
Showcase with Images
A successful website will showcase your products while reaching your business' target industry. As such, the Aero Gloss website features an image slider with high-resolution aircraft images, with the products on display directly below the slider. This dynamic combination showcases how the products are used and who their customer base is as soon as you arrive on the website. Additionally, the color scheme and layout of the website mimics the Aero Gloss packaging, which helps to increase brand recognition. Having consistent imagery from product to website can help build brand awareness and trust.
Product Information
Having easily accessible product information is important, especially when products are used in a specific market. This is why all of the relevant product information is clearly specified on the 'Our Products' page. This page also contains downloads for the safety data sheets for full transparency. Additionally, this ensures that Aero Gloss conforms to the SAE Aerospace Aircraft Chemicals and Materials Certification. There is also a section on this page explaining how to apply the product correctly, step-by-step.
Clear Navigation
For a website to be effective, it should be simple for all users to navigate. For this reason, the menu bar is easily accessible in the same location on all pages. The goal of a menu bar is to guide users to key webpages with ease. For a more responsive website, you should aim to have minimal navigation items. Often if there are too many, users can become overwhelmed with searching and simply leave. As such the Aero Gloss website only contains the necessities; About Us, Our Products, Product Locator, Become a Distributor, and Contact Us.
Mobile Accessibility
Mobile use continues to grow worldwide. As such, websites must be able to support mobile browsing to stay relevant. To ensure mobile responsiveness, the website adjusts the content size and structure for mobile devices. This ensures that the website loads quickly, while still looking professional. Having a mobile responsive webpage also helps to increase your search engine ranking. Additionally, it ensures customers can access your website at any time, from any device resulting in more traffic.
By using WordPress, the Aero Gloss website is easy to update in the backend while also being user-friendly. This makes it easy for any ongoing updates to be added, or changes to be made as needed.
If you are looking for a custom website for your business, contact Digital Hill today to discuss your website needs.