New Custom Designed Tiny Home Website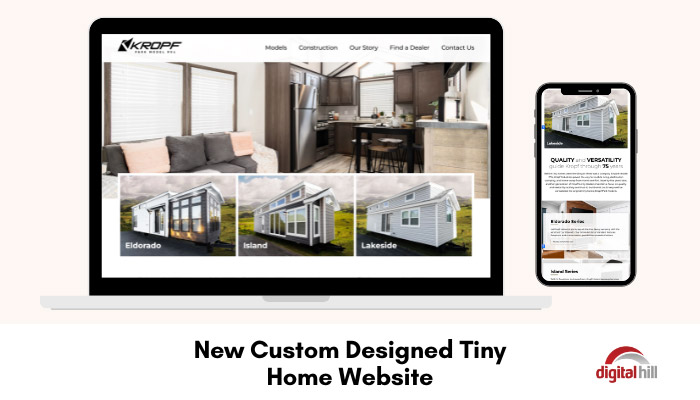 As a business, having a website is a must in the digital age, no matter how established you are. Kropf Park Models have been in business for over 75 years, and they build custom tiny homes. Their primary aim is to offer quality and versatility as they create your dream tiny home trailer. Therefore, it was important that the new Kropf Park Models website reflects these values while being easy to use. Below are just a few of the key features Digital Hill used to make this website stand out.
Dynamic Sliders
As users scroll the homepage, information panels about each base design slide out over the images. This unique feature catches the eye of website visitors while offering key information. On each text slider, there is also a call-to-action to learn more. To make the information easy to read, Digital Hill used a white background with black text. Furthermore, the description is kept to less than three sentences to avoid a huge wall of text.
Detailed Decor Gallery
With each base design offering several floorplan options and decor details, having a gallery was essential. Within the Decor Gallery, website visitors can select specific topics to browse. This includes furniture, fabric, wall panels, feature walls, flooring, counters, backsplash, plumbing, and cabinet finish options.
Within each category, there are clear pictures of each finish color and design style. Having all of these options in specific categories allows website visitors to systematically go through the options. From here, they can design their custom tiny home to suit their preferences and needs.
Fast Loading on Any Device
By using WordPress, the website itself is useable on any device. This is due to the mobile optimization implemented in the backend. The website itself will adapt to the screen size of whichever device it is being viewed on. This allows website visitors to view design options, floorplans, and more from absolutely anywhere.
ADA Accessibility
To ensure that the Kropf Park Models website is ADA and WCAG-compliant, Digital Hill installed the AccessiBe WordPress plugin. This allows Kropf Park Models to ensure they are compliant with any regulations, even as the government changes or updates laws. AccessiBe runs a daily compliance check, which ensures any new content is compliant and double-checks older posts. Furthermore, AccessiBe gives website visitors the ability to select accessibility options. This helps to make website navigation easier for those who need help. Visitors can simply click the blue accessibility button in the bottom left to enable text-to-speech, change font sizes, and even change the colors on text and backgrounds. These changes make the website easier to use and will automatically save for future use on the device and browser.
The new Kropf Park Models website brings a generational family business into the modern era to ensure it continues to thrive for generations to come. As a competitor in the tiny home industry, having a secure web presence is crucial to business growth and longevity. This new website offers a dynamic experience to every website visitor while showcasing the quality of Kropf Park Models tiny homes.
Looking to stand out in your industry? Contact Digital Hill today to discuss your business website needs and get a free quote!