New Functional and Informative Education Website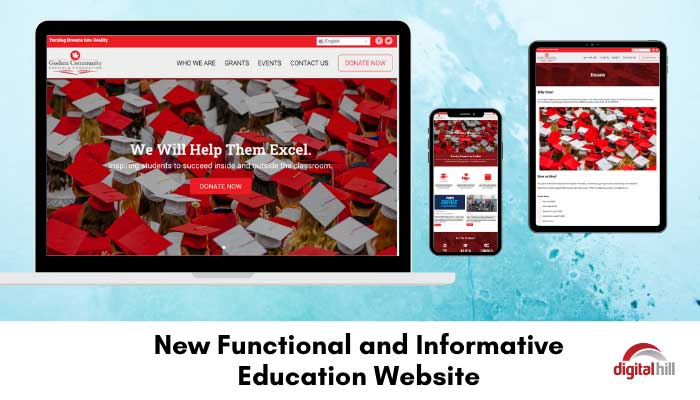 Non-profit websites that support educational institutions can be some of the most challenging to design and deploy.  They can have varying needs that the website should accommodate for various unique audiences. Now, with the education sector increasingly embracing digital learning, education supporting websites should be ahead of the curve.
Digital Hill recently created a website for the Goshen Schools Foundation. The requirements included a clear homepage to define who they are and who they serve. And other key areas including, secure donation forms, clear navigation, and the ability to view in Spanish and English. Below are the 4 essential features in use to create this functional and informative non-profit education website.
1. WordPress CMS at the Core
An effective content management system is important. Just as you should ensure that the website's front and back end is easy to use for administrators and marketing personnel, the content management system should be simple. Education-related information often needs weekly updates. From courses available to news, blogs, and upcoming events. As such, integrating WordPress on your education website makes it easy to use, allowing for total control of regular updates.
WordPress is a popular website builder for many reasons. It is the most used CMS platform on the web. It is open-source software, meaning there is a large range of inexpensive extensions and plugins for customized functionality.
2. Gravity Forms
If you intend to use your website to collect donations for funding educational activities, ensure that you have a way to take those payments. Gravity Forms makes it possible to set up a secure donation form on your education website, perfect for fundraising campaigns. Gravity Forms integrates with Stripe for payment processing, as Stripe charges low fees and offers flexibility in the payment type. However, it also has provisions for PayPal integration and other payment gateway options if you prefer.
Aside from collecting contributions, donation forms generated by Gravity Forms make it easier than ever to request donor support. The tool has a default donation form. Furthermore, it automatically adds donors to the education institutions' mailing list. Thus the ability to build your email list at the same time. Additionally, it automates the sending of receipts and donation acknowledgments to contributors through email.
3. Dynamic Home Page
Unlike other websites, homepages of non-profit websites can quickly become cluttered. As different departments fight for specific call-outs, the homepage can become overwhelmed. This in turn makes it non-responsive. However, homepages for educational institutions can be powerful if designed correctly. Your homepage offers the opportunity to showcase your educational supporting entity while being used to funnel traffic. That said, the features below can increase your homepage functionality;
Simple design – keeping your homepage simple is best. Many educational institutions make the mistake of overcrowding the content on the homepage. Ensure it is easy to read and only add the relevant information.
Insert quick links – quick links help to eliminate unnecessary clutter. They direct users to frequently requested information right away.
Quality images – insert rotating images, also known as sliders. These are a great visual way of keeping your audience updated on school events. However, ensure the slider doesn't dominate your homepage.
News and calendar – make your organizational calendar prominent on your homepage. The calendar is often the base of any school communication. Update news regularly to keep visitors informed.
4. Multilingual Plugin
Another essential addition to non-profit websites today is a multilingual plugin. It is an important addition to sites where visitors will be from various backgrounds and speak different languages. Fortunately, several plugins can be used to help build a responsive, multilingual educational website.
Additionally, there are several benefits of having a multilingual educational website. From enhancing international visibility to improving user experience, and boosting SEO. You should install the best plugin for your needs. Common multilingual plugins include LearnDash, Sensei, WPML, and Weglot, among others.
It's Time to Update your Website
More is needed to ensure you have an effective website alongside the four mentioned features. However, these features are a great foundation and recipe for a well functioning educational website. Regardless of what you include in creating the website, ensure the site is responsive, built for mobile, and user friendly.
If you are interested in updating your non-profit or educational institution's website or are looking to create a new one, contact Digital Hill today!