New Medical Aesthetics Booking and Informational Website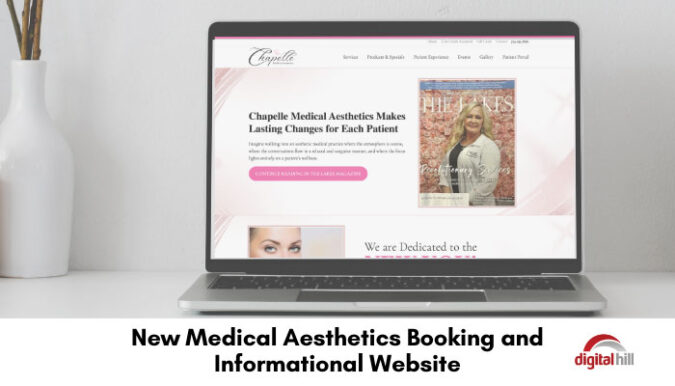 Potential clients don't want to have to search through a disorganized and complicated website. Instead, they want to be able to quickly find the information they need, then book an appointment or contact the company. The new website for Chapelle Medical Aesthetics in Warsaw, Indiana allows them to do just this. As a medical aesthetics business, they offer a range of medical treatments for the face, skin, and body as well as other health and wellness services. Now, potential and current clients can easily review the services and products on offer easily. Below are the key areas of the new Chapelle Medical Aesthetics website that help them to stand out among the competition.
Detailed Services Menu
All of the services available at Chapelle Medical Aesthetics are clearly listed on the Services webpage. Website visitors can click on each treatment or service to get more information. This includes the benefits, results, medication used, and the price. Each service also includes details about when you will results, and how many sessions are recommended. These additional details allow any website visitor to review the information without needing to call the clinic or email with a range of questions. Furthermore, potential and current clients can see costs upfront, eliminating any confusion or embarrassment about finances. Finally, there are photos accompanying each service offering to act as a visual tool.
As the website is created using WordPress CMS, the administration team can easily log in and update medications and pricing as required. This ensures that website service information is always correct.
Patient Portal
By filling in a simple form, each client has access to the Patient Portal. Within this portal, clients can:
Make bookings
View past services
Change appointments
Join a waitlist
Set up payment information
Pay balances
Update medical information
Set up appointment notifications
This custom patient portal gives clients full control over scheduling their services and keeps clients updated on upcoming appointments. Furthermore, users can join the Patient Portal by connecting their Google, Twitter, or Facebook accounts. This makes signing up quick and simple.
Financing Options
Medical aesthetic services can be expensive, which is why Chapelle Medical Aesthetics partners with CareCredit. This financing option is linked at the top of each webpage and allows potential or current clients to view the financing options available. The CareCredit financing plan is interest-free if paid off within 12 months, making it an affordable option for many clients. By following the link directly from the Chapelle Medical Aesthetic website, users also have the option to link their information to the Patient Portal. Then, they can view their balance and make additional payments with ease.
Products and Specials
This section of the new Chapelle Medical Aesthetics highlights current promotions and partnerships. Often these specials include an ongoing discount if the client signs up within a certain time period. There are also referrals to product suppliers offering special pricing and deals for the clients of Chapelle Medical Aesthetics. These offers are easily updated in the WordPress backend by the administrative team and easily trackable.
Running a business requires an online presence; however, ensuring that your online presence reflects your business accurately is crucial. The Chapelle Medical Aesthetics website allows visitors to have a digital experience that accurately mimics the experience they would have onsite. Furthermore, it allows potential and current clients to research and book treatments from anywhere using any device.
If your business doesn't already have a custom, user-friendly website, contact the team at Digital Hill today. We will work with you to create a professional and effective website to match the needs of your business.