New Nappanee Public Library Website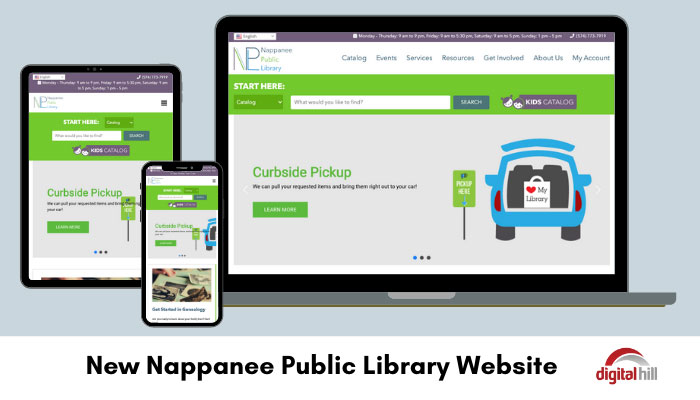 Libraries are often the center of the community, and as such, Nappanee Public Library needed a website to reflect that in the online space. This new website offers extensive search features, an event calendar, and account services for library patrons.
Below are just some of the key features our team included in the new, refreshed Nappanee Public Library website.
Advanced Search
As a library website, the ability for users to easily find a book, audiobook, eBook or DVD is key. The Nappanee Public Library website makes searching easy. For starters, the catalog search bar is highlighted in green and featured on every webpage. Additionally, when a user uses the search bar, the results pop up in a new tab, so users don't lose their place. The search results will then show whether the item is available, on loan, or on hold. If the item is available, the search results also show the location within the library and offer a checkout option for logged-in users. If it is unavailable, it will show either the return date or how many people are in the holds line. You also have the option to add your name to the holds list.
This search and checkout functionality is key for modern libraries. It allows users to check out books or DVDs from the comfort of their own home, and simply pick them up and drop them back.
ADA Accessibility
Another key feature of the Nappanee Public Library website is that it is ADA compliant. To ensure their website remains compliant and is easy to use by all users, we installed AccessiBe. AccessiBe is a plugin for WordPress that enables website owners to achieve ADA and WCAG compliance. To remain compliant, AccessiBe runs daily compliance checks, so even the new information added can be compliant. On the front end, the accessibility interface allows users to adjust options as needed, such as increasing text size or enable text to speech on their device. All users need to do is click or tap on the blue accessibility button in the bottom left. This then enables users to select their preferences. These settings are then be saved for future use.
Events Calendar
Another vital feature of the new Nappanee Public Library website is the events and booking calendar. Easily accessed via the menu bar, the events calendar shows all current, future, and previous events hosted by the library. This includes reading programs, arts & crafts, performances, book clubs, and even local walking tours. On the calendar, there is also a request option for those looking to book a conference or meeting room for personal or business use. An additional feature on the calendar is the advanced search, this enables users to find specific programs or classes that appeal to them, without having to scroll through all the events happening on each day.
This new, modern and dynamic website allows Nappanee Public Library to better serve their community needs in the changing digital age.
Does your local library need an updated website to better serve the needs of your community? The Digital Hill team can help design a functional, modern, and accessible website for your needs.