New Site Re-design: Al-Bar.com
Al-Bar Ranch in Mishawaka, Indiana, and severing the greater South Bend region, has been a long time client of Digital Hill.  We recently had the opportunity to not only give the site a new look, but also add some new features to this robust e-commerce site.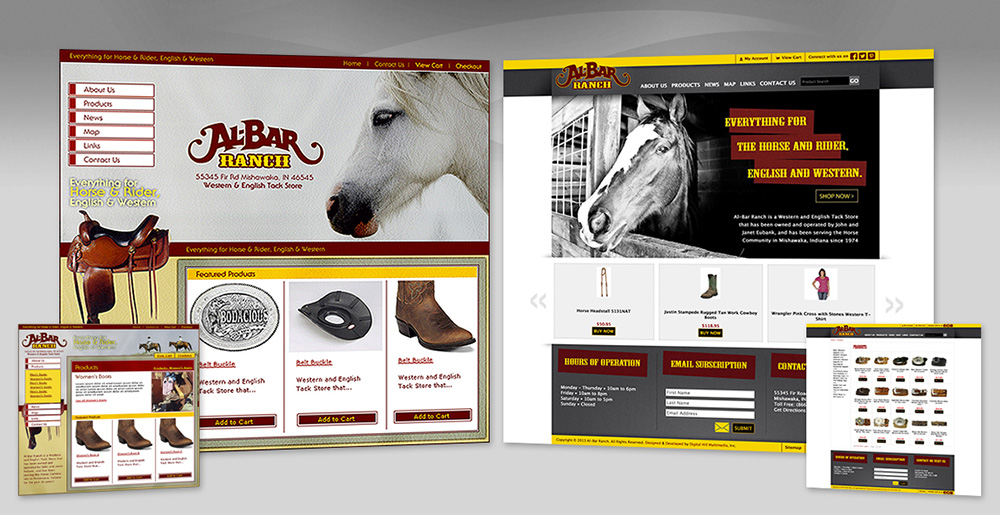 The new modern design has a much cleaner look and gives the user a better experience in finding the products they are looking for.  The new navigation with drop down sub-pages creates a simple way for users to easily find the information they are looking for and also access the hundreds of products currently on the site.
The new site also boasts many new functionalities.  Users to the site will now be able to provide reviews of their favorite products.  Along with that, we've given the site admin the ability to read reviews first before allowing them on the site.
Creating a better shopping experience, users now will see any related products to the ones they are currently viewing.   Not only does this enhance the user shopping experience on the site, but also helps our client in adding additional sales online.
With the rise of social media and the power of user's social platforms, we have integrated social sharing tools within many of the site pages, specifically on product pages.  Users are able to Like, Tweet, or +1 any of the products on the site.   Social sharing is a great way for Al-Bar to market their products online.
We have also integrated many new admin tools for the Al-Bar staff.  We believe our clients should have all the necessary tools to manage their site in the best way possible.  So, whether that be adding new categories or products, creating rules for shipping, or setting percentage discounts on certain order amounts, giving our clients these tools is important.
The Al-Bar staff are great to work with and do a fantastic job of keeping their site fresh with new products and information. 
You can check out the new site at Al-bar.com.  Also, don't forget to stop by their Facebook page here and like them.   
Check out other Digital Hill sites within the South Bend region and beyond by clicking on Our Work above.