New Web Design for John's Auto Spa of Nappanee Indiana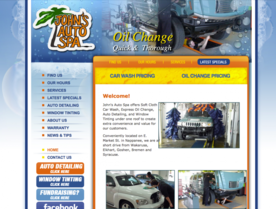 Press Release
Goshen, IN
Digital Hill announces the launch of a new web design for John's Auto Spa of Nappanee, IN. This new web design for the Elkhart County business includes Flash animation, a CMS editor allowing for easy content editing and creation of both main and sub categories.  The new web design gives John's Auto Spa the website control they need to easily manage their website and keep it current with service and specials information.
John's Auto Spa offers Nappanee and Elkhart County area residents and visitors:
– Soft Cloth Car Wash
– Express Oil Change
– Auto Detailing
– Window Tinting
– Fund Raising
All of the John's Auto Spa services are at one location to create extra convenience and value for their customers.
Conveniently located on E. Market St. in Nappanee, they are a short drive from Wakarusa, Elkhart, Goshen, Bremen and Syracuse. Visit thei new web design at  www.johnsautospa.com to see the  website and find out more about their services and latest specials.
Besides the new website, John's Auto Spa is active in Social Media and especially Facebook.  Facebook offers them a chance to share quick updates and specials with their Elkhart County regional clientele.  As a small business, an effective website and a solid presence in Social Media can truly provide a solid 1-2 punch in cost effective marketing.
Visit John's Auto Spa on Facebook.
Digital Hill Multimedia is a Goshen, IN based web design and Internet Marketing firm specializing in websites with CMS systems to allow for easy updating, as well as marketing strategies online and via Social Media.  With over 13 years of experience, Digital HIll serves over 400 clients in Elkhart County, South Bend, Fort Wayne, and nationwide.