New Website For Hoosier Housing Furnishings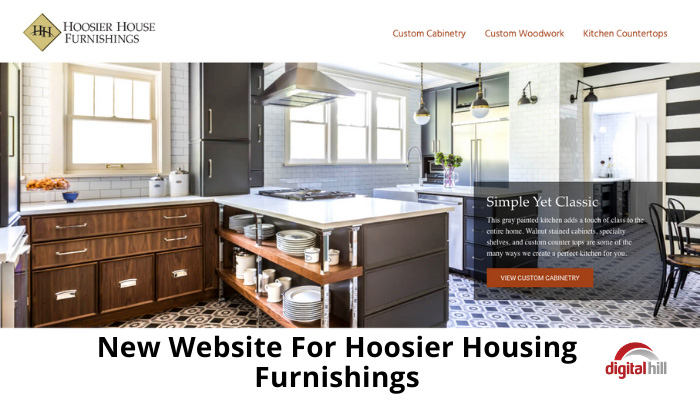 Hosier Housing Furnishings is a craftsmanship company with over 45 years of experience in woodwork. The expertise exhibited in their products has created them a great brand name and made them an authority in the market. Hoosier Housing Furnishings went live with a new WordPress website by Digital Hill to extend their reach and connect with their customers better.
The goal is to showcase their work and product offerings and to make it easy for their team to add new content as they create it. One of the main features they are enjoying includes the newest Gutenberg block navigation for creating great page layouts in the WordPress Admin area.
Here is how the Gutenberg blocks help Hoosierhouse.Us create great content for the public.
New website for Hoosier Housing Furnishings Features
1. Easy Website Navigation
88% of people shopping online will not revisit a website if they have a terrible user experience. Being a WordPress site, Hoosierhouse.Us benefits from block navigation feature, which makes navigation on the platform smooth. This has contributed significantly to the user-friendliness of the platform.
For instance, on clicking on product areas such as Custom Cabinetry, shows all the products available in this section. Block navigation displays images of the products on a single page, making it easy for customers to compare and select products.
2. Increased Mobile Responsiveness
The world is going mobile, and it is projected that by 2025, people using mobile-only to access the internet will be 72.6% of internet users. Hosier House Furnishing has leveraged the numbers by making its website mobile-friendly through Gutenberg block navigation.
Hoosierhouse.US kitchen countertops products page has the images displayed on one page. Users can, therefore, view all the products available within a short time, in a way that makes sense on mobile devices. Block navigation optimizes page loading speed on mobile websites, which also saves time.
Gutenberg blocks feature used in adding products and images on Hoosierhouse.Us
Block navigation is characterized by a sidebar that consists of page blocks and tools for the editing process. For the purpose of enhancing the user experience. The dragging tool is used to drag blocks from one point to another, making the reorganization of the page content easier. Alternatively, the blocks can be moved by a click.
The different blocks have unique snippets from the content, making them easily recognizable. These features make the movement of the blocks to the editor smooth.
WordPress Gutenberg Blocks
Here are some of the Gutenberg blocks used by Hoosierhouse.Us in custom cabinetry, custom woodwork, and kitchen countertops pages.
Gallery
This block allows you to create an image gallery for a webpage. In the gallery block, you can set the number of columns you want your gallery to have, edit your images, and align it to enhance usability. Furthermore, using it is as simple as dragging images into the gallery block and editing them from there. Here, you can then create captions for your images. Use the crop editor to resize your thumbnails to the desired size.
Image
The image block allows you to add images to your post by dragging them from a folder. You can also add Alt text to the images on this block. 38% of the users will stop returning to your site or pages if the layout is not appealing. Therefore, align and format your images to achieve an attractive attention-grabbing page.
Paragraph
Hosier Housing Furnishings used the paragraph block to add new paragraphs to the kitchen countertops, custom cabinetry, and custom woodwork pages. Specifically, this block has a tool for aligning paragraphs, setting the background and text color, and other text settings. With Gutenberg blocks, you can effortlessly make modifications to the text in your paragraphs, without the risk of images or other blocks shifting.
Wrap Up
As a matter of fact, there are many other Gutenberg blocks that you can use in your WordPress site, including a cover image, file, audio, and list. Gutenberg blocks are a new and easy way to edit the content on your website in an aesthetically pleasing way for your user. It can also help you add links from several sources in your content. It is a simple and effective option for content editing on your business site.
Contemplating a new website or an upgrade to your existing WordPress site?  Contact our team today!