How One Business Grew 414K in new Revenue with Digital Marketing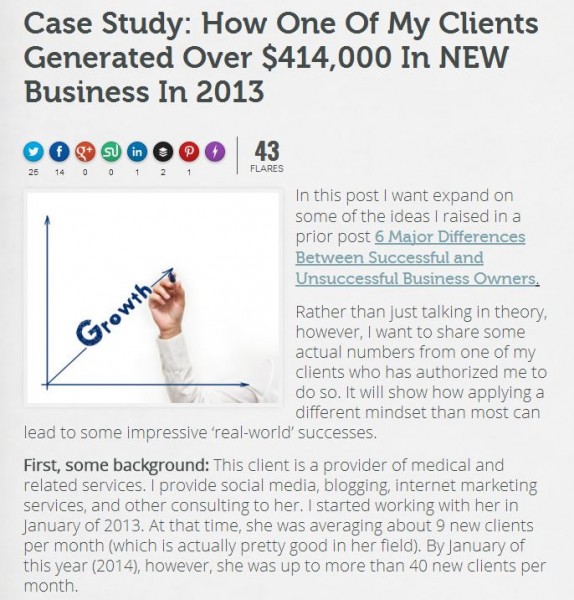 I recently had the opportunity to interview a fellow digital marketer to talk about a client case study she had documented from her work with the client's business in 2013 and into the start of 2014.  The interview was for my podcast (www.halftimemike.com) and I hosted Amanda Brazel, a social media marketer and coach based in Raleigh, North Carolina.  I wanted to talk with her because of the explosive growth in sales revenue they were able to achieve.
Her client is a licensed psychologist and counselor who was seeking to grow her practice.  I'll outline key points from the interview about what worked and didn't work that Amanda shared.
Ultimately they achieved great success with $414,000 in new business generated.  Hopefully this real-world example gives you some ideas and takeaways for your business.
Amanda started working with the business in January of 2013 and after doing some assessment of the current digital marketing efforts and opportunities found through research and evaluation, they decided on a plan of action that was long-term, not attempting a quick-fix, but one that was consistent and focused.  One of the keys was in narrowing down the target audience and identifying the ideal customer profile.  Where before the business had spent significant time on trying to reach medical professionals as a way of connecting for possible referral business, Amanda changed the focus and had the business work more on reaching consumers directly who needed her professional services.
YouTube was a Key
One of the keys was using YouTube videos.  The videos provided a means for the regional community to meet the doctor and be educated on some clues in behavior that that indicated a person may find counseling of value.  A simple, low-budget series of short videos were created with no special equipment.  Each video helped to demonstrate the expertise and professionalism of the psychologist, while also enabling some trust and comfort level to be established.  As well, each video ended with a specific call-to-action encouraging the viewer to take a next step of action.
The videos were then added to the company website, hosted on the company YouTube channel, and shared across social media channels in regular, consistent, and sometimes repeated sharing patterns. This meant sharing the YouTube videos to Facebook, Twitter, Google+, and sharing the videos to the company Pinterest account and more. The videos increased traffic to the website and the call-to-action did work to increase email news sign-ups for further information.  As well, new client calls to inquire and set an appointment that referred to the videos increased.
Not Every Network
A second key was that they did not start everywhere at once on all social media networks, but focused more carefully by identifying which social network their audience spent the most time on, and then sought to make that presence stronger, more active, and consistent in the type and frequency of the posts.  Over a period of months they would then add another network and so on.
One discovery that was important, was in tracking responses by social network. They found that the second most used network by the ideal audience, Twitter, was actually the strongest in driving new potential client traffic to the website and in ultimately leading to new client accounts.  As well, some forays into other social networks did not yield results and so after a time those were abandoned and the monthly reviews helped them to see where value was coming from and focus their efforts going forward.
414,000 in New Business
Ultimately, new client sign-ups resulted in $414,000 in new business that was based on a $2,000 per monthly budget in digital marketing services. So for $24,000 cost in actual social media and web services, $414,000 was generated.  An additional key was that the retention rate also stayed strong at around 85%.  So with the grow in business by the start of 2014 and a 85% retention, the practice was able to plan for a minimum of $352,000 in return client business for 2014 before any new client revenue was even calculated.
The keys that Amanda outlined were the willingness of the practice to get going, step out and try her recommendations, along with a openness to review and change ongoing strategy based on results.  Rather than a "this or nothing" approach, the winning formula was a "try and see, evaluate, modify, and try more" concept that helped the practice achieve growth.
Social Media and digital marketing can impact positively nearly any business.  The key is in doing some of the hard work of identifying the ideal audience, where they spend time online, how they can be reached, and then creating a means to proactively move them from aware of your business to nurtured and educated potential customer, and ultimately to retained and loyal customer.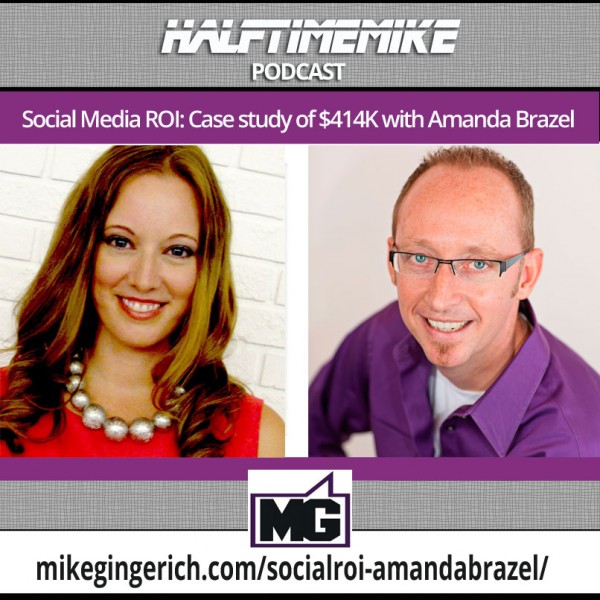 To read more and listen to the podcast interview visit, www.mikegingerich.com/socialroi-amandabrazel/.