Online Educational Resource Website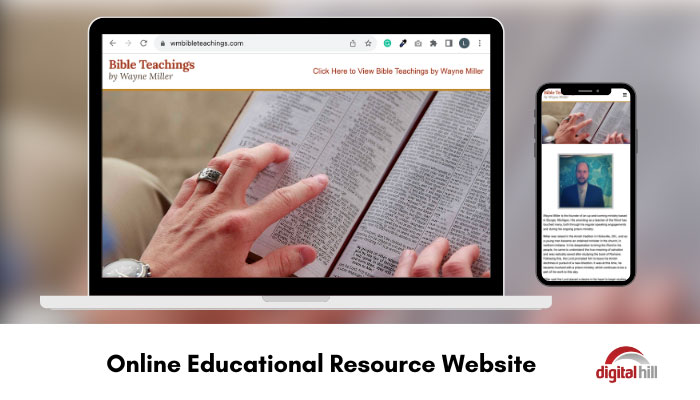 World events over the past few years have made having a website crucial for businesses and organizations. However, just having a website is not enough. After all, people also need to be able to find it and navigate it effectively. Wayne Miller reached out to us at Digital Hill to create a website where he could share his Bible teachings with anyone interested. Below are some details on how we created a simple, effective website focusing on educational Bible teachings.
CMS
To create the foundation of the website, our team utilized WordPress. WordPress is a reliable, and effective CMS (Content Management System) with a user-friendly interface. In the backend, Wayne can easily add new details to the website, update pages, and add photos as desired. Furthermore, WordPress uses open-source software, which means there are endless plugins and themes to completely customize the website. The final benefit of WordPress as CMS is the automatic update system. This ensures the website is always safe and secure.
Mobile Optimization
Ensuring the website worked well on all devices was imperative, as most internet users now browse using their portable devices. The website loads quickly on any device from smartphones to desktop computers and functions seamlessly. This is because the website automatically resizes depending on the device being used. Now, any of the website visitors can listen to Bible teachings anywhere!
Basic Layout
The layout for Wayne Miller's Bible teaching website is simple and easy to view. Visitors on the website simply click on the Bible Teachings header to be taken to the main scriptures page. From here, visitors can find which section of the Bible they would like to listen to. The website features two pages: the homepage and the scriptures page. This ensures that it is easy for all visitors to navigate, especially those who are less tech-savvy.
SEO
The Wayne Miller Bible Teachings website features robust SEO or Search Engine Optimization. By using keywords and meta descriptions, the website now ranks higher in search engines. This is a key detail of any website in the modern era, as it ensures that people can find the website. After all, the higher your website can rank, the easier people can find it. Especially, as most people do not scroll past the second page of search results.
With this simple, yet effective website, Wayne Miller can easily share his thoughts on scripture with the world. This allows him to expand his reach while working tirelessly within his community.
Do you need a website for personal or business use? Contact Digital Hill today to discuss your ideas and get a free quote!