Optimized Niche Product Website for OTR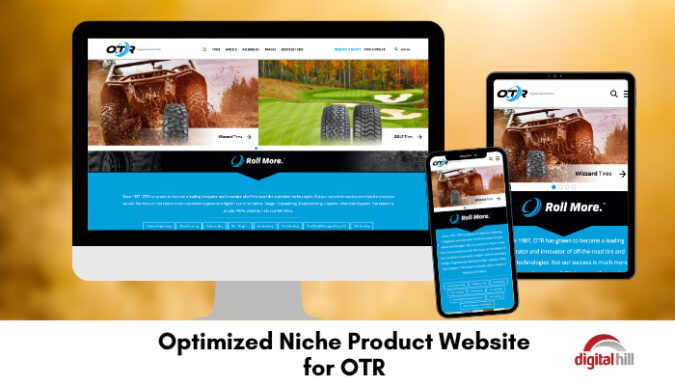 OTR offers a range of off-road tires and wheels. However, their success in the automotive and agriculture industries comes down to their unique designs and engineering. Their new website needed to reflect the value they offer their clients while showcasing the brand to potential clients. With a unique product offering and specialized skill set, the new OTR website is optimized for performance and search engine rankings.
Usability and Performance
In the modern era, websites must load quickly and be easy to navigate. After all, visitors will just leave if it takes too long to load. The OTR website uses the WordPress CMS to offer a seamless experience to every visitor. It loads rapidly and is mobile-optimized to work on any device. This means that every visitor has the same experience whether they are on their mobile phone or laptop.
Possibly even more important is ensuring that the OTR website is easy for the administration team to maintain. After all, having a modern website is much more effective when you can continue to update it. The WordPress CMS makes it easy for the OTR team to add new images, products, and blog posts. All of which help to keep the site ranking higher on search engines like Google.
Search Engine Optimization
A business website is only beneficial to a business if people can find it online. Our team added the Yoast SEO plugin to the OTR website to help maximize search engine traffic. This plugin helps businesses to optimize every single webpage and blog by adding meta descriptions and tags. Businesses can preview search listings and adapt them as needed. Additionally, Yoast SEO will alert businesses to new Google ranking rules and offer suggestions to improve search engine rankings through a good, fine, or bad rating.
News/Blog Posts
The OTR news page offers even more to website visitors by sharing industry news, product releases, and details about OTR product uses. This allows OTR to offer even more value to their customers and increase brand trust. Furthermore, regular blogs and news releases help to maintain their position within the industry and improve their ranking on search engines.
Simple Quote Options
The simple, clean, and easy-to-find quote form allows any website visitor to connect with the OTR team. Each section of the form is clearly labeled and it is easy for visitors to complete in just a minute or two. There is also a recaptcha verification to help eliminate bots and fake quote requests. Once the form is submitted, the OTR team receives an email and can respond directly to the client.
As more and more people prefer to use the internet to find products and services, the need for an optimized website is increasing. Take the initiative like OTR and get a customized website for your business needs. Take your brand into the online space without losing any of your brand's unique offerings and personality today. Contact Digital Hill to learn more!