Pain Management Group, LLC Launches New Website by Digital Hill
Press Release
Website ~ Web Design ~ Content Management System ~ Mishawaka
Pain Management Group, LLC of Mishawaka believes in educating and helping their patients who are suffering from pain by delivering quality, cost effective and efficient care. Visit www.PainManagementGroupLLC.com.
When Pain Management Group, LLC first contacted Digital Hill, they were unsure of what exactly they wanted in a  website. Digital Hill was able to access their needs and design a site that was best suitable for their practice. Since the staff at Pain Management attending to patients, there was a requirement to quickly and easily update their website when new information was available. A simple and efficient Content Management System was Digital Hill's solution. The new Mishawaka website is now able to update content and add pages with the greatest of ease. On top of that, there are SEO tools added to assist the Mishawaka facility in reaching desired search results.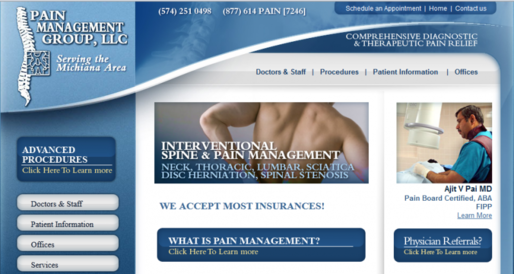 The new web design for Pain Management Group, LLC is a welcome addition to Digital Hill's portfolio of Mishawaka website clients. For over 14 years, Digital Hill Multimedia, Inc. has specialized in Web Design, eCommerce, SEO, Web Hosting, Social Media, Flash, 3-D Animation, Application Development, Internet Marketing and Promotion Strategies in Mishawaka, Northern Indiana and throughout the country.
Visit www.digitalhill.com or call 888-537-0703.
Website ~ Web Design ~ Content Management System ~ Mishawaka