Pine Manor Farms Launches New Website by Digital Hill
Press Release
Pine Manor ~ Digital Hill ~ Website ~ Web Design ~ Content Management System
Pine Manor Farms produces naturally grown poultry in an ethical and efficient manner for consumers who appreciate and enjoy wholesome, great-tasting food. For more information, please visit www.PineManorFarms.com.
The new Pine Manor Farms website opens with a beautiful rotating image area that is completely customizable, allowing them to adjust the delay time between image transitions and even link the images to other pages within or outside of their new website. There is also a Store Locator that uses an embedded Google map and is updated in the manager area. With Digital Hill's Content Management System, the Orland website can add, delete, and organize sub-pages. The CMS has a built-in editor enabling Pine Manor the ability to update content with ease. As with every web design by Digital Hill, there are SEO tools incorporated into the website giving Pine Manor an advantage over the rest and nudging them even closer to the top of Internet search results.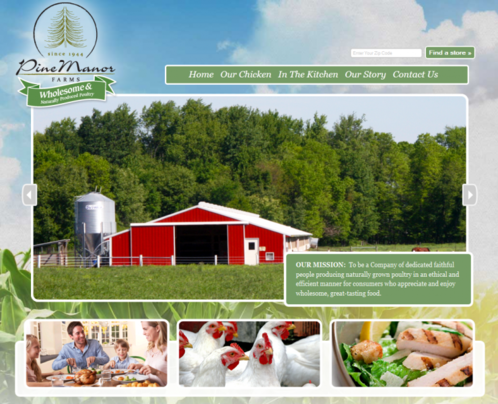 The new web design for Pine Manor Farms is a welcome addition to Digital Hill's portfolio of Orland website clients. For over 14 years, Digital Hill Multimedia, Inc. has specialized in Web Design, eCommerce, SEO, Web Hosting, Social Media, 3-D Animation, Application Development, Internet Marketing and Promotion Strategies in Orland, Northern Indiana, and throughout the country.
Visit www.digitalhill.com or call 888-537-0703.
Pine Manor ~ Digital Hill ~ Website ~ Web Design ~ Content Management System