Pinterest for Business, A Guide to the Growing Visual Social Network

The social network with the most year over year growth in 2012 was Pinterest.
While it may be known to the casual observer as simply the place where mostly females spend time pinning recipes and fashion images, it is really much more than that and can have some very strategic business advantages!  Let's review and breakdown the stereotype to show why more and more businesses are using this social network effectively in their online marketing efforts.
The Overview: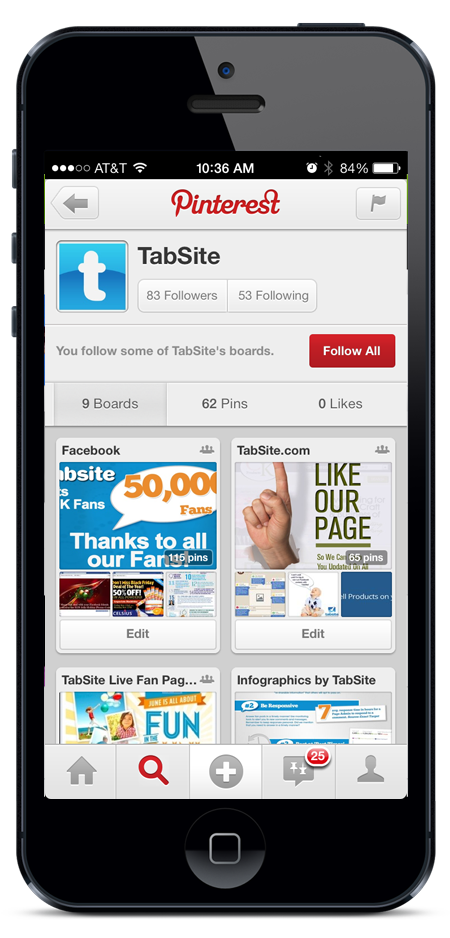 Pinterest is an online social network website where users can save (pin) and organize images and videos into different groupings called boards.
Users can upload images and videos themselves via the website or mobile/tablet apps, or users can add a browser bookmarklet enabling them to add images and videos that they've found on other web sites. This is likely the most common use now.  As well, users on Pinterest can review other users public boards and can "re-pin" pictures and videos that other people have added to their own Pinterest boards.
Pinterest continues its rapid growth in users with over 70 million people now using this social network and nearly 79% of them active regularly on the platform. While dominantly female in use still, in the U.S. men now make up 30% of all Pinterest users.  The age category with the most active users is the 25-49 year old bracket.
While the social network is used by many as a place to gain inspiration related to hobbies, career, and travel, it is also a online place to organize images within different categories such as items to be considered for purchase and a place to share these images easily with others.
One of the keys for businesses is that Pinterest can be a tremendous source of traffic to your website.
Pinterest for Business:
Pinterest offers business accounts (visit http://business.pinterest.com).   This allows a business to create a presence on Pinterest where they can create boards and share images such as images of their products or a gallery of their finished work.  Each pin can be linked to a specific website page so that if a user  finds something they like, they can click through to the website to learn more.  This can be valuable for retailers but also a source of discovery for companies like RV Dealerships.
Pinterest also allows businesses to easily add a "Pin it" button to their website per page.  This helps a business extend their reach because now visitors can easily pin product images from the business website to their own boards on Pinterest, a source of free extended marketing for the business!
On the web today, social media sites like Pinterest can be a way for your business website to reach more people.  By making it easy to share your product or service images, and by participating in creating boards and interacting on Pinterest, businesses can reach a wider audience and ultimately see more traffic return to their website.
The growth of different social media channels poses both a challenge and an opportunity.  Where should your business invest time and energy for instance? While companies do not need to be on all social media channels, if your demographic is spending time on Pinterest, it can be a valuable place for your business to be represented to reach them and their connections.
To see a business example, visit the TabSite Pinterest account at www.pinterest.com/tabsite/.
An additional Pinterest resource, read more: Does It Really Work if You Buy Pinterest Followers? – Influencive