Powerful WordPress Ecommerce Store for Sleep and CPAP products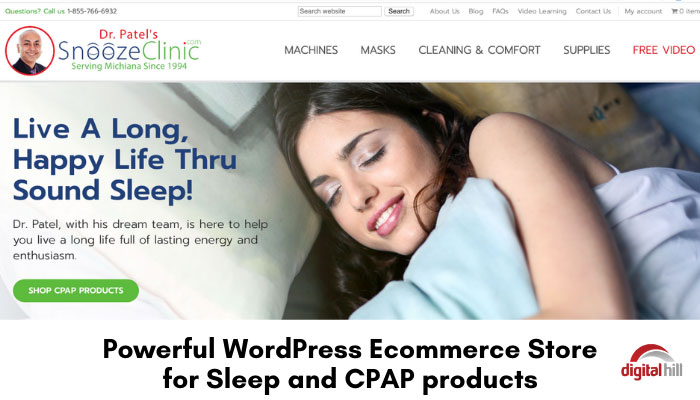 Every modern business understands the importance of a website. From exposure to generating leads and sales, a professional website puts your brand on the world map and elevates you above the competition. This is what Dr. Patel of Snooze Clinic had in mind when he reached out to us. He wanted a web platform to promote and sell his products. However, he wasn't looking for a typical website. He wanted an easy to find, easy to navigate, fast-loading, and truly helpful website for his customers. And that's exactly what we delivered with this WordPress ecommerce store website using Woocommerce!
Key Features of the New Snooze Clinic Website
First off, the general design of the new Snooze Clinic website is visually appealing. The entire site is very light, with individual pages designed to load almost instantly. Faster load speeds help to generate more traffic as well as boosting search engine rankings.
The navigation is also simple, clean, and focused. All the important resources, including product pages (the main categories), contact information, checkout, and support resources are all accessible with the click of a button – above the fold.
As well as the clutter-free design, the new website features a range of innovative features aimed at improving both engagement and conversion. This WordPress ecommerce store website features include;
1. Yoast SEO Pro Integration
Yoast SEO is the #1 WordPress plugin for search engine optimization. It helps you get more visitors from both Google and Bing, generates substantial traffic from social media, and boosts visitor engagement on your website.
We used the Pro version of the Yoast SEO plugin to ensure that Snooze Clinic gets maximum SEO benefits. With Yoast SEO Pro, Snooze Clinic can optimize their site for keywords, key phrases, synonyms, and even related keywords. The plugin also monitors the site to ensure that there's no outdated content. In addition, other benefits of Yoast SEO Pro include readability checks, duplicate content prevention, and assistance with technical SEO.
2. WooCommerce Integration
By integrating Snooze Clinic's website with WooCommerce, the clinic now combines eStore benefits of WooCommerce with the blogging advantages of WordPress to deliver a unique customer experience.
Among other things, WooCommerce supports over 100 payment gateways. Snooze Clinic, for instance, now accepts payment via Visa, MasterCard, PayPal, Discover, and American Express making it even easier for its customers to purchase. WooCommerce also supports multiple shipping methods and helps with refunds, order management, and email management. At the click of a button, Snooze Clinic has access to all these features. Therefore they can help their customers with any request in a timely manner.
3. Reviews and Trust Signals
Online reviews have become critical to business success in recent years. Up to 93% of online purchases are influenced by reviews. To ensure that Dr. Patel doesn't miss out on referred customers, we integrated the Snooze Clinic website with one of the leading healthcare review platforms – Health Grades. See The Health Grades badge towards the bottom of the site.
Aside from the reviews, the Snooze Clinic website clearly displays badges from the American Board of Internal Medicine and the Indiana Professional Licensing Agency. Hence both serve as trust signals for potential customers.
4. Social Media and Chat Integration
Finally, Snooze Clinic is integrated with all the major social media networks and also supports live messaging and video chats. The social media integration allows consumers to connect with the clinic on their various social networks with the click of a button. Supported networks include Facebook, Twitter, Instagram, and YouTube.
Chat integration, meanwhile, is supported by Zendesk. There are two chat options – live chat and video chat. Live chat supports text and images while video chats allow for video calls. Both options are toll-free allowing customers to contact the clinic instantly.
In a Nutshell
The new Snooze Clinic WordPress ecommerce store website is not just optimized for search engines but also designed to generate maximum sales and revenue of CPAP products. Yet, it remains clean, simple, and incredibly easy to navigate. Visit the site to see for yourself!
In the current digital world, a business website is a must-have. Have you got a website for your business? Does it need a facelift? Contact us to discuss website creation or upgrades today.