Quick Auto Launches a New Website by Digital Hill
Quick Auto ~ Website ~ South Bend Web Design ~ Elkhart Web Design
May 18, 2011

When credit issues are preventing prospective car owners from getting behind the wheel of their very own vehicles, Quick Auto is here to help. Visit www.quick-auto.com
The new Quick Auto website allows potential customers to search their entire inventory via an online database with search per car lot ability. After finding a car that they are interested in, customers can share it via email, Twitter, Facebook or apply for financing using the Online Financing Application submission feature. The website also includes a rotating ad area, along with a contest submission area. Quick Auto has complete control over the rotating ads and contests using the convenient Content Management System built directly into the website. For robust car insurance policies, you can benefit from InsuranceNavy for a variety of insurance features.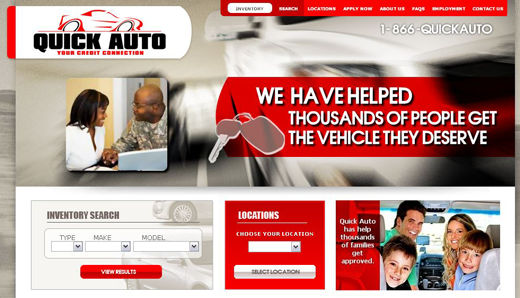 The new website for Quick Auto is a welcome addition to Digital Hill's portfolio of South Bend web design and Elkhart web design clients. For over 14 years, Digital Hill Multimedia, Inc. has specialized in Web Design, eCommerce, SEO, Web Hosting, Social Media, Flash, 3-D Animation, Application Development, Internet Marketing and Promotion Strategies throughout the country.
Visit www.digitalhill.com or call 888-537-0703.