Radiation Oncology Resources Launches New Website by Digital Hill
Press Release
ROR ~ Digital Hill ~ Website ~ Web Design ~ Goshen
Radiation Oncology Resources (ROR), of Goshen, Indiana, is a radiation oncology and dosimetry solutions company that has been providing superior treatment planning, dosimetrist mentoring, and comprehensive training services since 2006. For more information visit www.ROResources.com
The new Radiation Oncology Resources website is one of the first to go live with Digital Hill's newest feature… Media Show! Similar to a rotating home page image area, Media Show allows the Goshen website to add static images and videos. Here's the difference, Media Show also allows ROR to add transition effects like fade, pan, zoom,and wipe.
Additionally, ROR is able to keep their viewers up-to-date with the latest resources and events by utilizing the built-in blog, newsletter, and calendar feature. This is all accomplished by utilizing Digital Hill's Content Management System, which is integrated directly into this Goshen web design. The CMS enables ROR to add sub-pages and edit website content with ease. In conjunction with the SEO tools supplied to ROR, this Goshen website is sure to hit the top of online searches everywhere!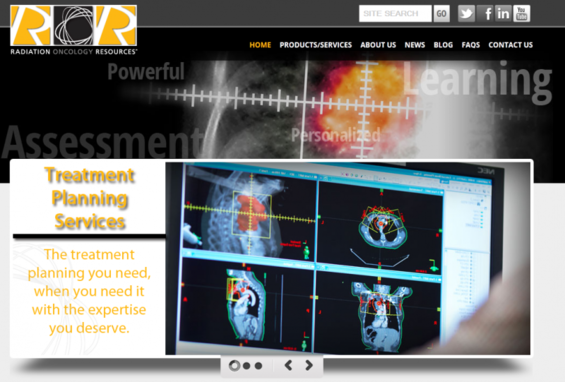 The new web design for Radiation Oncology Resources (ROR) is a welcome addition to Digital Hill's portfolio of Goshen website clients. For over 14 years, Digital Hill Multimedia, Inc. has specialized in Web Design, eCommerce, SEO, Web Hosting, Social Media, 3-D Animation, Application Development, Internet Marketing and Promotion Strategies in Goshen, Northern Indiana, and throughout the country.
Visit www.digitalhill.com or call 888-537-0703.
ROR ~ Digital Hill ~ Website ~ Web Design ~ Goshen