Rudae's School of Beauty Culture Launches New Website by Digital Hill
Press Release
Web Design ~ Website ~ Content Management System
Rudae's School of Beauty Culture, with locations in Fort Wayne and Kokomo, provides up-to-date courses of instruction that will equip and prepare their students for a successful career in the beauty industry. Visit Rudae's website for more information.
Rudae's came to Digital Hill asking to create a new, clean, and sleek face for their online appearance. On top of that, they needed something that was quick and easy to update. Digital Hill not only designed a website with fantastic aesthetic appeal, but Rudae's is also able to effortlessly manage their content on the fly with a straightforward, no sweat Content Management System. The new Fort Wayne website has the ability to add additional top level and sub-pages, along with the ability to publish those pages with only a click of the mouse. Along with the Content Management System, Digital Hill has also incorporated a set of SEO tools into the website. These SEO tools allow for potential students to better find the new Rudae's website via simple search engine inquiries.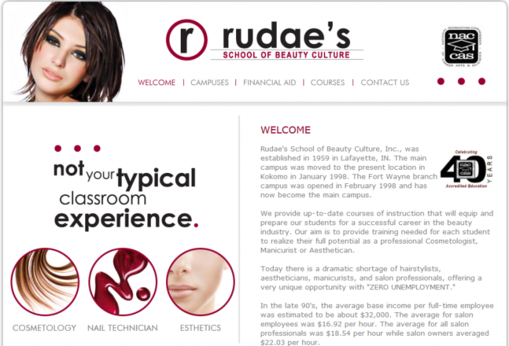 The new web design for Rudae's School of Beauty Culture is a welcome addition to Digital Hill's portfolio of Fort Wayne and Kokomo website clients. For over 14 years, Digital Hill Multimedia, Inc. has specialized in Web Design, eCommerce, SEO, Web Hosting, Social Media, Flash, 3-D Animation, Application Development, Internet Marketing and Promotion Strategies in Fort Wayne, Kokomo, Northern Indiana and throughout the country.
Visit www.digitalhill.com or call 888-537-0703.
Web Design ~ Website ~ Content Management System