Saddle Website Launched for Minnesota Company
Press Release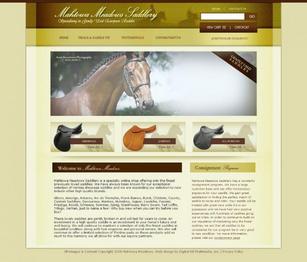 Digital Hill Multimedia, a Goshen Web Design company, announces the launch of a new e-commerce  website for Minnesota company, Mahtowa Meadows Saddlery.  Mahtowa Meadows is a specialty website shop offering only the finest previously loved saddles. Known for their exceptional selection of Hennig dressage saddles, they are expanding their e-commerce offerings to now include other high quality brands.
Specializing in gently used European Saddles, Mahtowa Meadows offers Dressage, Jumper, and All-Purpose European Saddles.  Only available online, their available saddles include some of the finest such as Hennig Saddles, Albion, Amerigo, Antares, Arc de Triomphe, Frank Baines, Butet, Childeric, County, Custom Saddlery, Devoucoux, Hermes, Hulsebos, Jaguar, Lauriche, Passier, Prestige, Roosli, Schleese, Sommer, Spirig, Stackhouse, Barry Swain, Tad Coffin, Trilogy, and Verhan, just to name a few!  Mahtowa Meadows does not have a retail location; rather they are a completely online retailer offering personal service through their e-commerce website.
Digital Hill developed a e-commerce website with homepage flash animation to showcase these pristine saddles, as well as a way for saddles owners wanting to sell to be able to arrange a consignment program with Mahtowa Meadows.  With soft colors and elegant fonts, this e-commerce website is a graphic design beauty that matches the beauty of the products.
The e-commerce website manager offers a number of tools enabling Mahtowa Meadows to manage products, view website traffic stats, evaluate and update key SEO items, and keep the home page message fresh and relevant.
With solutions including e-commerce, content management, and product database websites, Digital Hill is able to handle the most complex and demanding website needs.  From starter sites to e-commerce sites with product databases to other custom web applications Digital Hill is ready to be your source. 
In addition, Digital Hill offers complete Internet Marketing and Social Media Marketing services, enabling companies to expand their presence on Facebook, YouTube, Twitter, and more.  
With a capable team of Internet Experts, Digital Hill is a national leader in web development, e-commerce websites, and Internet Marketing. Contact Digital Hill today to explore your web, Social Media, and e-commerce needs.
To Shop Mahtowa Meadows e-commerce store, please click here: www.MahtowaMeadows.com