SanPan Boats Launches New Website by Digital Hill
Press Release
SanPan ~ Boats ~ Nautic Global Group~ Website ~ Web Design ~ Digital Hill ~ Elkhart
With style and class, the SanPan Boats collection is redesigned from top to bottom this year with the highest-quality materials, and superior accessories, and a true passion for luxurious entertaining. Visit www.SanPanBoats.com for more information.
The new website for SanPan Boats of Elkhart, Ind., a subsidiary of Nautic Global Group, utilizes a captivating Flash animation on the home page to draw viewers in for a closer look. With a detailed description of every SanPan Boat model on the the website, finding a boat that is right for you is effortless. The dealer locator makes it simple to find a dealer, not only nationwide, but in Canada and internationally, too. The new Elkhart website also offers the ability to request a brochure, DVD, quote, financing, or trade-in value. Nautic Global Group is able to update the SanPan Boats website, along with its other subsidiary websites, using a single and unique Content Management System that Digital Hill built to specifically fit their needs.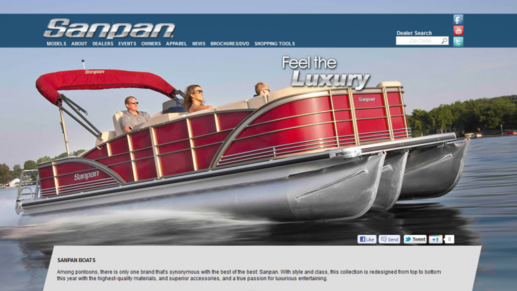 The new web design for SanPan Boats is a welcome addition to Digital Hill's portfolio of Elkhart website clients. For over 14 years, Digital Hill Multimedia, Inc. has specialized in Web Design, eCommerce, SEO, Web Hosting, Social Media, Flash, 3-D Animation, Application Development, Internet Marketing and Promotion Strategies in Elkhart, Northern Indiana and throughout the country.
Visit www.digitalhill.com or call 888-537-0703.
SanPan ~ Boats ~ Nautic Global Group ~ Website ~ Web Design ~ Digital Hill ~ Elkhart