Schutz Brothers Launches a New Website by Digital Hill
Schutz Brothers – Website – Web Design
North Manchester, Indiana – January 21,2011
Schutz Brothers, Inc. has refined the art of building horse tack. Combining the nation's top leathers, tanned and finished for the tough equine environment, with the highest grade threads and hardware, quality comes naturally to the Schutz family. Schutz Brothers, Inc. is located in North Manchester, Ind. near Fort Wayne.
The new web design for Schutz Brothers incorporates Digital Hill's own custom Content Management System tools. The CMS allows Schutz Brothers to easily manage the content of their web site via user a friendly toolbar where they can create new top level and sub-level pages; along with adding, editing or deleting products. The most unique feature of the Fort Wayne are web design is the Private Dealer information area. From the CMS toolbar, Schutz Brothers can manage dealer information and their private pages.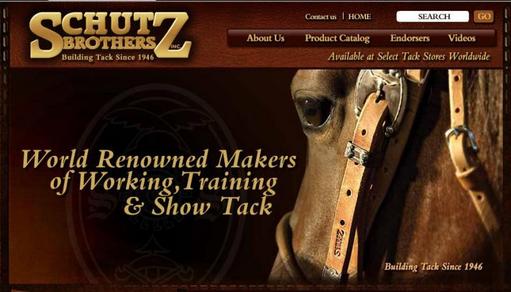 The new web design for Schutz Brothers, Inc. is a welcome addition to Digital Hill's portfolio of North Manchester and Fort Wayne area website clients. For over 14 years, Digital Hill Multimedia, Inc. has specialized in Web Design, E-commerce, SEO, Web Hosting, Social Media, Flash, 3-D Animation, Application Development, and Internet Marketing and Promotion Strategies in Fort Wayne, Northern Indiana and throughout the country. They can be contacted at 1-888-537-0703 or www.digitalhill.com.
Digital Hill Multimedia, Inc.
229 S. Main St.
Goshen, IN 46526