Sneaky Ways to Show Up In Google Search
[fusion_builder_container hundred_percent="no" equal_height_columns="no" menu_anchor="" hide_on_mobile="small-visibility,medium-visibility,large-visibility" class="" id="" background_color="" background_image="" background_position="center center" background_repeat="no-repeat" fade="no" background_parallax="none" parallax_speed="0.3″ video_mp4="" video_webm="" video_ogv="" video_url="" video_aspect_ratio="16:9″ video_loop="yes" video_mute="yes" overlay_color="" video_preview_image="" border_size="" border_color="" border_style="solid" padding_top="" padding_bottom="" padding_left="" padding_right=""][fusion_builder_row][fusion_builder_column type="1_1″ layout="1_1″ background_position="left top" background_color="" border_size="" border_color="" border_style="solid" border_position="all" spacing="yes" background_image="" background_repeat="no-repeat" padding_top="" padding_right="" padding_bottom="" padding_left="" margin_top="0px" margin_bottom="0px" class="" id="" animation_type="" animation_speed="0.3″ animation_direction="left" hide_on_mobile="small-visibility,medium-visibility,large-visibility" center_content="no" last="no" min_height="" hover_type="none" link=""][fusion_text columns="" column_min_width="" column_spacing="" rule_style="default" rule_size="" rule_color="" class="" id=""]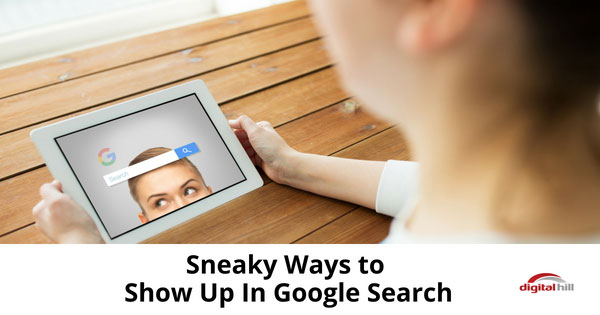 Where you show up in the search engine makes or breaks whether people visit your site or not. In fact, 75% of internet users never scroll past page one in search results. So showing up and being seen is important.
Luckily there is more than one way to show up in Google's search results. Google also has maps, snippets, and question and answer as part of their search results. By taking advantage of these features, you can increase visibility and sneak your way into better search results.
3 Sneaky Ways To Show Up In Google's Search Results
Google Maps

Google's search engine and Google Maps are very well integrated. When searching for a business, Google gives the searcher companies in their local area and displays the location on a map.

If you're not listed on Google Maps, you could be missing out on interested local customers. By keeping your business information current on Google. It helps local customers find your services, company hours, photos shared by customers, and customer reviews.

The review feature alone is very valuable.  It provides customer feedback and lets you engage with the community building your reputation. Reviews can also be added to your snippets on Google search results further increasing their value.

Snippets

To simplify, a snippet is an overview of your website and its content. It contains a headline, URL, and a brief description of your website. This structured HTML data helps a search engine better understand what your website topic is and displays it in search results.

With snippets, you can create different metadata for each page on your website allowing you to match several different search terms. By using well written fact-filled descriptions, you can attract users looking for very specific products and services you provide. Snippets require a bit of work to set up correctly, so research is advised.

Questions

When a user searches for a specific question Google will attempt to answer it with an answer box showing the most likely answer. This result is listed before any other search results.

It puts you at the top of the search page and gives you a lot of visibility. There is a correct format that has to be used for your website to be chosen by Google as the answer.

Paragraphs are good for questions with a single answer with detail. Use lists for questions that require an organization of interrelated facts. Finally, tables work well for information where you compare and contrast data. Also be sure to use keywords, be accurate, and use exact terminology.
Final Considerations
Search engine rankings are complex. It's not just keywords and content; it's also making use of all the tools Google offers so your business can stand out.
Think of search results as an aspect of marketing. A way to get customer attention, raise awareness, and draw in business. Customers won't come to you if they don't know you exist in the first place.
These methods also serve extra uses aside from just search engine results. Maps draw in local customers, snippets inform potential customers, and answers paint your company as industry experts.
[/fusion_text][/fusion_builder_column][/fusion_builder_row][/fusion_builder_container]