Social Commerce: How Amazon is Competing with TikTok and Instagram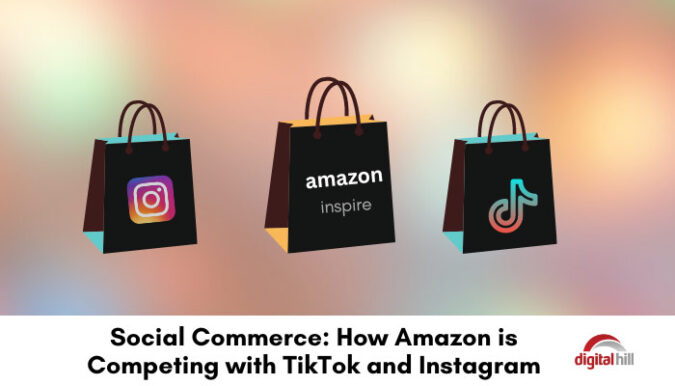 The popularity of social media shopping or social commerce is on the rise with social platforms, such as TikTok and Instagram, allowing brands to include clickable links that direct users to their web stores. While the success of Amazon in the realm of eCommerce and fast shopping remains unmatched, the tech giant hasn't successfully cracked the social commerce sphere. However, this segment has become the backbone of online sales.
This doesn't mean Amazon has made no effort to fight progressive social commerce. Amazon's recent efforts to get into the social commerce realm is the launch of "Inspire," a TikTok-like feature that provides photo and video product feeds for shoppers. The aim is to enhance user engagement. Amazon had initially tried a similar feature called Spark in 2017, a shoppable image and news feed that targeted Amazon Prime subscribers.
Amazon's New Social Commerce Project – Inspire
Several social media giants have tried copying TikTok's popularity by creating short-form video products, such as Instagram/Facebook reels and YouTube shorts. Meta and Google have not fully monetized ads on TikTok-like apps. But the new features can potentially make Google and Meta ads more effective. Ads shown between short-form videos often feel less intrusive which allows digital marketers to get more impressions.
It is because of this and the need to match the rising social commerce trends that Amazon is releasing Inspire. Amazon Inspire has TikTok and Instagram-like feeds of photos and short-form videos shared by influencers and brands. This makes it easy for online shoppers to find products from the Amazon marketplace.
Easy for Sellers
Inspire also makes it easy and exciting for Amazon sellers to show off their products. It is much better than the conventional layout where product images are laid out on Amazon's search results. That layout made it difficult for brand products to stand out.
Great for Research Insights
The best part of using social media to market your products and services is the ability to find out how your target customers respond to the ad. Amazon's Inspire is a counter-strategy that encourages digital merchants to list their products on the Amazon marketplace. Through the feature, Amazon sellers can learn more about customer expectations, tastes, and shopping behavior.
In most cases, online customers search for products using Amazon's search engine. Through this, Amazon can learn how customers compare products and use these insights in ad retargeting strategies to improve conversion rates. However, once customers complete their purchases, Amazon can't guess their next purchase or the customer's shopping trends unless they use the Amazon search engine again.
Feeds Based on Interest
The discover feature on Inspire allows Amazon to learn more about customers' shopping behavior. Feeds are based on customer interests, which they choose when opting into the Amazon app. Later, the feed on the app is based on how customers interact with shoppable content through likes or comments.
Generally, Inspire helps Amazon get better insights about their customer's interests beyond their search activities. This helps the company better predict customers' shopping trends, design effective ads, and boost the platform's eCommerce activity. This increases revenue, both from third-party sellers and advertising agencies.
Summary
While they began as platforms where users can engage and have fun, Instagram, TikTok, YouTube, and other social networks have evolved into effective shopping platforms. Amazon has introduced its social commerce feature, Inspire, as a response to the budding world of social commerce.
Inspire is building on Amazon's established influencer program, which gave social media influencers a new way of making money by sharing promotional content. While it isn't well-established, Inspire is Amazon's effort to fend off increasing competition from social networks.