Social Media Examiner Chooses TabSite as One of the Top Apps to Customize Your Fan page

Great News for Facebook TabSite!
In a blog written by Mari Smith of the Social Media Examiner, TabSite was chosen as one of the top 75 applications for enhancing your Facebook Fan Page.

The Social Media Examiner is a FREE online magazine designed to help companies learn how to utilize social media tools to their max in order to generate leads, increase revenue and intensify brand awareness. Not only that, the Social Media Examiner is rated as one of the world's top 100 business blogs.

"TabSite is one of my favorites. It's a very easy-to-use interface. I created the "RESOURCES" tab on my Facebook page using TabSite," says Mari Smith.
Smith also mentions Delivra, Mail Chimp and Constant Contact as a few of the top Email Marketing applications; which, as many of you already know, TabSite has integrated with as a way to make TabSite your one-stop-shop for enhancing your Facebook Fan Page.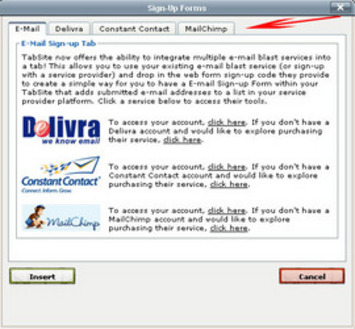 TabSite also allows for users to embed videos, add RSS feeds, link to other social media accounts (i.e. Twitter, LinkedIn, YouTube, etc…) and more. To compare packages, go here.
Subscribe to Social Media Examiner  *  Follow Mari Smith on Facebook and Twitter