SPI Inc. Launches New Digital Hill Website on Small Business Suite Technology
Press Release
SPI Inc. Launches New Digital Hill Security Solutions Website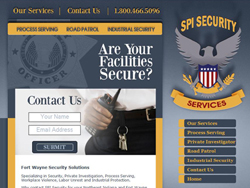 FORT WAYNE, IN, February 04, 2010 – SPI Inc., located in Fort Wayne Indiana, launched a new security services website from Digital Hill Multimedia, Inc.  SPI Inc. has been a leader in process serving, private investigation, industrial security, strike security, and road patrol since 1991.  You can visit the site at Fort Wayne Security.

SPI's new website will enable its prospective customers to learn about all of the security services they provide.  They chose Small Business Suite technology because of it's power, search engine optimization, value and custom design.  As Fort Wayne's largest security solutions service provider, SPI Inc. attributes their success to continually investing in security program design and support, offering above-average security officer wages, providing superior background screening, training, supervision, and the most responsive customer service in the industry.

For over 12 years, Digital Hill Multimedia, Inc. has specialized in Website Design, E-Commerce, SEO, Website Hosting, Social Media, Flash, 3-D Animation, Database Development, and Website Marketing and Promotion Strategies in Northern Indiana and throughout the Country.  They can be contacted at 1-888-537-0703 or www.digitalhill.com.