Starcraft Distribution Launches New Website Design by Digital Hill
Press Release
New E-commerce Website
by Digital Hill Multimedia
Goshen, IN 
Starcraft Distribution, Elkhart, Indiana, has launched a new e-commerce website designed by Digital Hill Multimedia, Inc., of Goshen.  Starcraft Distribution is an Elkhart based manufacturer with a national automotive parts reach as a retailer specializing in automotive, truck, cargo/horse trailer, and RV parts and accessories.
The new e-commerce web design features a home page flash overview to introduce website visitors to the wide scope of automotive and related parts offered, including Corvette and Truck Cap parts.  The website has a product management system allowing for main and multiple sub-categories as well as an all-new tag system for products. The tag system allows Starcraft to add category tags to part products, providing a way for customers to easily locate items and other related products.  The website features a CMS (content management) system for easy content editing, the noted product management system for quick product creation and management, and SEO tools for better management of Search Engine Optimization.  Together these tools with the leading edge web design and Internet Marketing gives Elkhart based Starcraft a robust online presence and the tools to manage their future growth.
The new web design will allow Starcraft Distribution to serve U.S. and Canadian clients as well as the Elkhart, Indiana, area with quality automotive, truck, truck cap, cargo trailer and RV parts and accessories.
Visit their new website at www.StarCraftParts.com.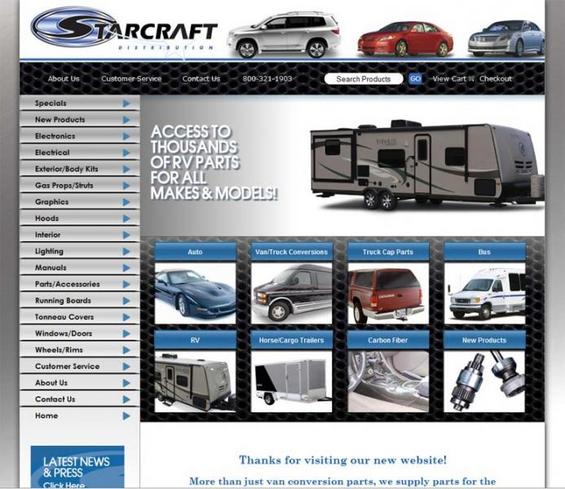 For over 14 years, Digital Hill Multimedia, Inc. has specialized in Web Design, E-commerce, SEO, Web Hosting, Social Media, Flash, 3-D Animation, Application Development, and Web Marketing and Promotion Strategies in Elkhart, Northern Indiana and throughout the country.  They can be contacted at 1-888-537-0703 or www.digitalhill.com.
Web Design, App Development, Social Media, E-Commerce Website, Internet Marketing