Steps to Update your LinkedIn Profile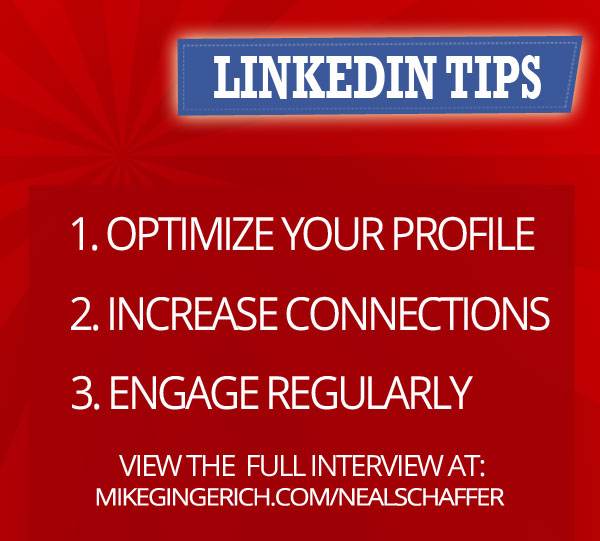 LinkedIn is the premier business social network for finding suppliers, vendors, and services.
I attended the New Media Expo conference in Las Vegas in early January. This event is a massive melting pot of social media experts, digital marketers, website hosting companies, podcasters, video and web tv producers and more.  It's basically a tech geek's slice of heaven to learn from, meet with, and see some of the latest emerging trends and technologies.
At New Media Expo, I was privileged to meet up with Neal Schaffer.  Neal lives in Orange County, California and we had connected on Facebook, Twitter, and LinknedIn via common connections and reading each other's blogs.  Neal is a "go-to" social media business consultant.  He's been named a Forbes Top 50 Social Media Power Influencer two years in a row and is a global social media speaker who also teaches as part of the Rutgers University Mini Social Media MBA Program. As an author, Neal is best known for his book on social media strategy creation, implementation, and optimization "Maximize Your Social: A One-Stop Guide to Building a Social Media Strategy for Marketing and Business Success", and he has also published two other social media books specifically focused on LinkedIn.
I had the opportunity to sit with Neal and hear firsthand tips for business success on LinkedIn. Here's a review of tips that Neal shared for professionals on LinkedIn.
Start with Optimizing your Profile
The first key for your LinkedIn profile starts with using a professional photo.  LinkedIn is not the place for your family picture or a company logo.  This is you as a business person.
Next, be intentional about your headline. Your name, photo, and headline are your "brand" presentation on LinkedIn!  This should be concise, descriptive, and creative.  As well, in the summary area, be sure to be thorough.  The goal is to differentiate yourself in your summary from others.  Be sure to write to showcase your uniqueness.

It's similar to Facebook in one aspect, how you present yourself matters. People do business with people, so present your best personal points forward on your LinkedIn summary of qualifications and experience.  This is your qualifier area for people seeking out your product or service and whether they will have interest in contacting you.  This is where it's different from Facebook.  People are not on LinkedIn to see what their friends are doing.  They are on LinkedIn to search for partners, suppliers, and vendors for their business needs.
Just like people use Google search, and results for related search queries are returned, so on LinkedIn the content in your profile is searchable, so be sure to help your profile be found by creating more data points in LinkedIn search.  You can do this by listing all of your former employment places.  Neal Schaffer takes his profile all the way back to high school. You never know what former classmate  is now CEO of a large organization looking for the services your business provides!
Increase your Connections
Neal's advice: Connect with everyone you know! Connect with friends, clients, and be sure to connect with people you meet at events. LinkedIn only grows in value as your network grows. This helps expand your audience and in particular your "visibility", because when you post an update on LinkedIn your entire network has the opportunity to potentially see that update.  This means that the more connections you have, the more visibility of what you are doing is available to a larger audience.
Engage Regularly on LinkedIn
Try to be active each day on LinkedIn by sharing some nugget as an update that can be of value to your network.
Some social media tools like Buffer, allow you to schedule a post to your LinkedIn profile ahead of time for example.  The key is to offer real value from your expertise and experience.  Do not sell, simply offer value. LinkedIn is not a place to press your latest sales discount, it's a place to showcase your expertise.
A final tip from Neal is that, whenever possible, personalize your invitation to connect on LinkedIn.
For the full 10 minute interview and list of tips, visit: www.mikegingerich.com/nealschaffer.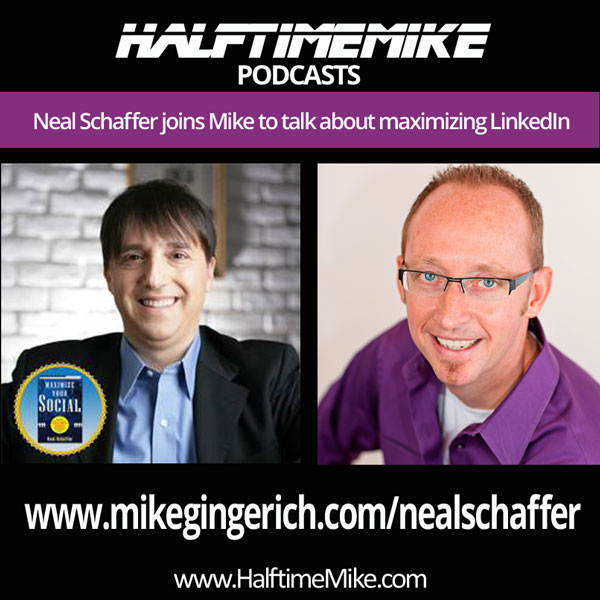 Like to add valuable pins to Pinterest?  Here's the full tip for pinning: