SummitRe Launches New Website by Digital Hill
Press Release
SummitRe ~ Digital Hill ~ Website ~ Web Design ~ Indiana ~ Content Management System

Summit Re was founded in 1999 as a result of Lincoln National Reinsurance Companies' exit from the managed care reinsurance market. Summit Re's focus has since been on excess medical business. For more information visit the website at www.Summit-Re.com.
The new web design for SummitRe of Indiana opens with an engaging rotating image area that is fully controlled via Digital Hill's proprietary Content Management System. Each image is automatically re-sized to fit the allotted area and can be linked to anywhere within or outside of the website. There's also a Contact Us map on the website that allows for SummitRe to add profiles and contact information for representatives all over the United States. The SummitRe web design gives the ability to add more top-level and sub-pages to their existing navigation. Accompanying the aforementioned features are SEO tools, which are built right into the manager area toolbar bringing the SummitRe website to the top of search results!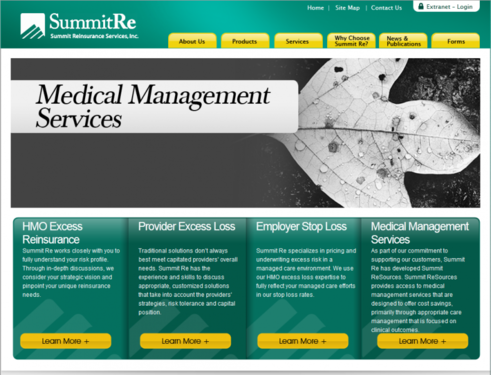 The new web design for SummitRe is a welcome addition to Digital Hill's portfolio of Indiana website clients. For over 14 years, Digital Hill Multimedia, Inc. has specialized in Web Design, eCommerce, SEO, Web Hosting, Social Media, 3-D Animation, Application Development, Internet Marketing and Promotion Strategies in Northern Indiana, and throughout the country.
Visit www.digitalhill.com or call 888-537-0703.
SummitRe ~ Digital Hill ~ Website ~ Web Design ~ Indiana ~ Content Management System