TabSite is Proud Sponsor of 2010's #Indiana Social Media Summit

Digital Hill's own TabSite is the proud sponsor of this year's #Indiana Social Media Summit, streaming live from Indianapolis.
The Second Annual #Indiana Social Media Summit and New Year's Luncheon SMackdown Event will be held on December 30,2010 at 1:30 PM/EST at Scotty's Brewhouse. A RSVP is required.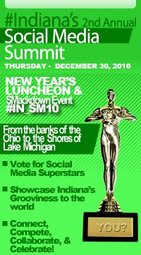 Cities from all over the state of #Indiana will have the opportunity to watch and take part in the Official Awards Ceremony live via Ustream and Skype. To view a list of participating cities and locations, go here.
The #Indiana Social Media Summit and SMackdown Event recognizes leading individuals at the forefront of social media from across the state of Indiana. Trophies will be rewarded to :
Indiana's Most Influential: Dame, Dude and Up & Comer
Indiana's Nicest Social Media Peep
Indiana's Grooviest Social Media Campaign
Indiana's Most Ethical Social Media Company
Click here for a list of nominees.
The MC for the Awards Ceremony is none other than the Indianapolis
Social Media phenomena… BG Kahuna.
Mike Gingerich from Digital Hill and TabSite created the re-design of the #Indiana Social Media Summit logo along with setting up their TabSite page to help promote the event. This is what they said about Mike and TabSite on their Facebook Wall:
"Mike Gingerich from Digital Hill in Goshen #Indiana! did a FABULOUS job
on the #IN_SMackdown10 page and he re-designed the logo.
VERY cool. http://on.fb.me/bu5TEh Now that's what I call pimpin' a page."
TabSite was created as way for Facebook Fan Page and Places Page users to create a website underneath a Facebook Tab called "TabSite." No more Static FBML! With TabSite, you can create multiple pages under your tab, add images to customize your tab, embed videos, add RSS feeds and much more. Compare TabSite packages here.
TabSite is honored to be apart of #Indiana's Social Media Summit 2010!