TDS Computers LLC Launches New Website by Digital Hill
Press Release
Web Design ~ Website ~ TDS Computers ~ Product Administration ~ Cleveland
With over 30 years combined experience in the IT hardware marketplace, TDS Computers LLC of Cleveland, Ohio has the knowledge and resources to deliver products of the highest quality at very affordable prices. For more information, please visit www.TDSComputersLLC.com.
The new TDS Computers LLC of Cleveland, Ohio website is equipped with Digital Hill's Product Administration feature that gives TDS the ability to manage categories and subcategories, product pages, and product descriptions. This is combined with a Content Management System that allows for the addition of sub-pages and content throughout the site, including the ability to add images and .pdfs. There is also an area on the website dedicated to a Newsletter sign-up. The Newsletter was also designed by Digital Hill and completes the TDS branding by mimicking the web design. With integrated SEO tools, the new Cleveland website is more easily searchable.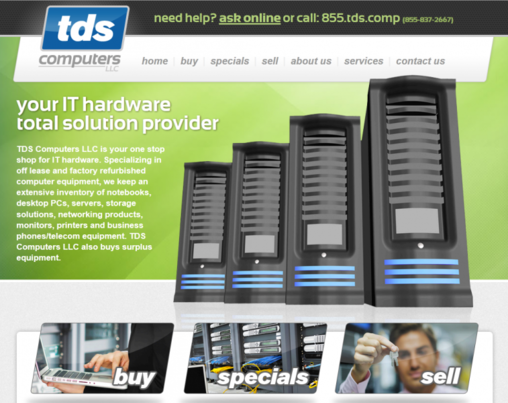 The new web design for TDS Computers LLC is a welcome addition to Digital Hill's portfolio of Cleveland, Ohio website clients. For over 14 years, Digital Hill Multimedia, Inc. has specialized in Web Design, eCommerce, Product Administration, SEO, Web Hosting, Social Media, Flash, 3-D Animation, Application Development, Internet Marketing and Promotion Strategies in Cleveland, Northern Indiana and throughout the country.
Visit www.digitalhill.com or call 888-537-0703.
Web Design ~ Website ~ TDS Computers ~ Product Administration ~ Cleveland