Tiara RV Launches New Website by Digital Hill
Press Release
Tiara RV ~ Digital Hill ~ Website ~ Web Design ~ Product Administration ~ Elkhart
Tiara RV is proud to feature and sell fifth wheels and travel trailers built by local manufactures. For more information, visit www.TiaraRVSales.com.
The new website for Tiara RV has a Product Administration are where Tiara can add product descriptions, images, videos, attributes, sales price, and much more! Viewers can search the website by model, make, price range, etc. And if a viewer is interested in purchasing a RV there's a download-able credit application right on the website. Not only that, but the website has incorporated social media. A Facebook Facepile has been added to allow viewers to Like the Tiara RV Fan Page right from the website. Uniting a blog into the web design permits Tiara to keep their customers up-to-date with the latest RV news and also allows customers to subscribe, so they never miss a post.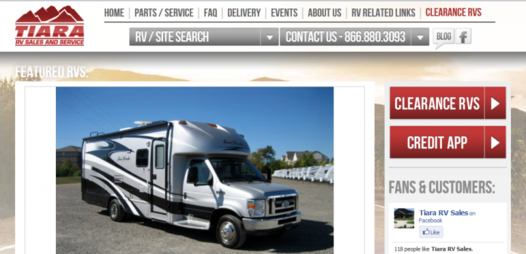 The new web design for Tiara RV is a welcome addition to Digital Hill's portfolio of Elkhart website clients. For over 14 years, Digital Hill Multimedia, Inc. has specialized in Web Design, eCommerce, SEO, Web Hosting, Social Media, 3-D Animation, Application Development, Internet Marketing and Promotion Strategies in Elkhart, Northern Indiana, and throughout the country.
Visit www.digitalhill.com or call 888-537-0703.
Tiara RV ~ Digital Hill ~ Website ~ Web Design ~ Product Administration ~ Elkhart