Wag'n Tails Launches New Website by Digital Hill
Press Release
Wag'n Tails ~ Mobile Vet Clinic~ Digital Hill ~ Website ~ Web Design ~ Form Creator ~ Granger

Wag'n Tails Mobile Conversions, of Granger, Indiana, has pioneered the mobile pet services industry almost 40 years ago. Their business model stems from experience and knowledge gained from owning and operating a 22 van fleet of mobile pet services vehicles. For more information visit www.MobileVetClinic.com.
The new Wag'n Tails, aka Mobile Vet Clinic, website has a unique feature that was designed by Digital Hill just for them. What is it? Form Creator. With Form Creator, the Granger website has full control of the forms available to visitors. They are able to designate field types, titles, whether or not it's a required field, and much more. Completed forms submitted to the Wag'n Tails website are saved on secure server to ensure the safety of information. The web design also incorporates a manageable home page rotating image area and product administration, allowing Mobile Vet Clinic to keep the website captivating and up-to-date. This is all made possible through the use of Digital Hill's instinctive Content Management System.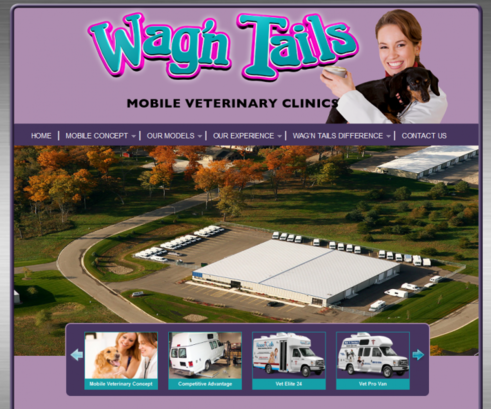 The new web design for Wag'n Tails is a welcome addition to Digital Hill's portfolio of Granger website clients. For over 14 years, Digital Hill Multimedia, Inc. has specialized in Web Design, eCommerce, SEO, Web Hosting, Social Media, 3-D Animation, Application Development, Internet Marketing and Promotion Strategies in Granger, Northern Indiana, and throughout the country.
Visit www.digitalhill.com or call 888-537-0703.
Wag'n Tails ~ Mobile Vet Clinic~ Digital Hill ~ Website ~ Web Design ~ Form Creator ~ Granger