Web-Based Warranty System Solutions
[fusion_builder_container hundred_percent="no" equal_height_columns="no" menu_anchor="" hide_on_mobile="small-visibility,medium-visibility,large-visibility" class="" id="" background_color="" background_image="" background_position="center center" background_repeat="no-repeat" fade="no" background_parallax="none" parallax_speed="0.3″ video_mp4="" video_webm="" video_ogv="" video_url="" video_aspect_ratio="16:9″ video_loop="yes" video_mute="yes" overlay_color="" video_preview_image="" border_size="" border_color="" border_style="solid" padding_top="" padding_bottom="" padding_left="" padding_right=""][fusion_builder_row][fusion_builder_column type="1_1″ layout="1_1″ background_position="left top" background_color="" border_size="" border_color="" border_style="solid" border_position="all" spacing="yes" background_image="" background_repeat="no-repeat" padding_top="" padding_right="" padding_bottom="" padding_left="" margin_top="0px" margin_bottom="0px" class="" id="" animation_type="" animation_speed="0.3″ animation_direction="left" hide_on_mobile="small-visibility,medium-visibility,large-visibility" center_content="no" last="no" min_height="" hover_type="none" link=""][fusion_text columns="" column_min_width="" column_spacing="" rule_style="default" rule_size="" rule_color="" hide_on_mobile="small-visibility,medium-visibility,large-visibility" class="" id=""]
Does your company have an in-house warranty program?
Is your customer service team maxed out processing warranty claim input?
Are you tired of faxes and phone calls using time that could be better spent elsewhere?
Enter a Solution: Web-Based Warranty System Solutions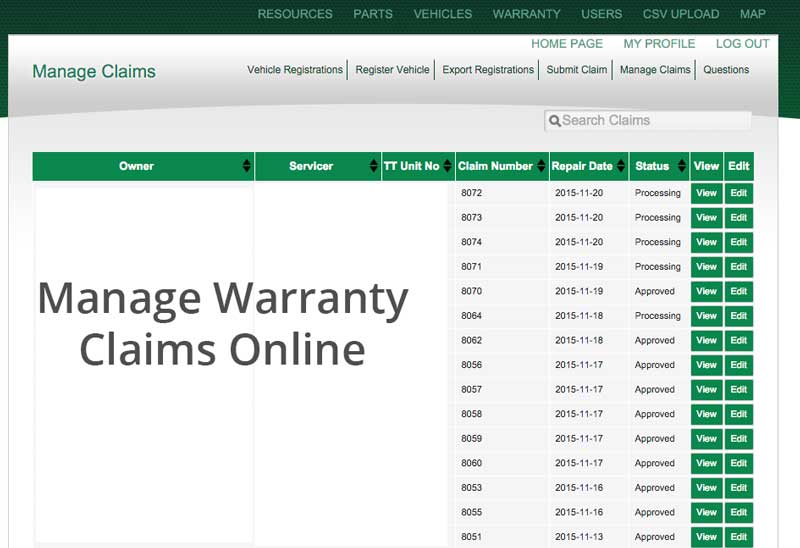 Businesses and manufacturers are moving their warranty management systems to web-based solutions that let dealers and distributors submit warranty claims online.  This saves customer service and support time, and can drastically cut down the number of faxes and back and forth phone calls.  All of which, keep your distributors happy as their warranty claims are expedited.
With a web-based warranty system solution, a business can offer private submission and handling of claims online.  From the moment a unit is sold, the ID number can be entered along with where and to whom it was sold to begin the warranty lifecycle.  When a warranty claim is submitted online, the system can find the exact unit and know the necessary details quickly.
Online warranty claim forms can include any information needed to process a claim.  This can include submitting a detailed description, part numbers, and even associated image uploads to view.  Image uploads allow faster claim evaluation and processing.
By managing warranty claims online, the product warranty items are evaluated and tracked very effectively.  The ordering systems can be set up to accept credit card,  or purchase order PO's, or allow credits for items covered under warranty.  The sky is the limit on customizing to your needs!
Digital Hill has been building web-based warranty systems, parts systems, and product ordering systems for over 8 years and can help your business find a solution that is efficient and offers solutions that save money and keep the end consumer satisfied.
Some systems integrate with primary company product databases, so the existing system maintains the inventory and the web system pulls data.  It's all about meeting the needs of each business and their specific use scenarios.
Manage Warranty Claim Details: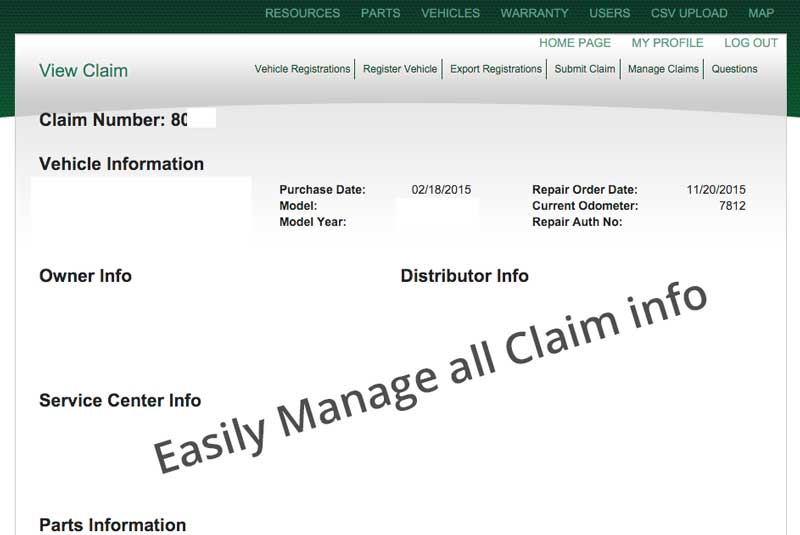 When a Warranty System and Parts Catalogs are together online, the systems can work together to make replacing parts easy.  Pricing systems for different dealer or distributor levels can exist, and other custom rules can be programmed to apply.
Warranty systems can handle the lifecycle of the product from purchase to claim, claim to processing, and processing to resolution.  All online, all accessible to the company and the end user who needs the information.
Save time, be efficient, save money! Take your warranty systems online.  View the DH Web Software Tools.
[/fusion_text][/fusion_builder_column][/fusion_builder_row][/fusion_builder_container]