Website and Online Marketing Solution for Pacemaker Buildings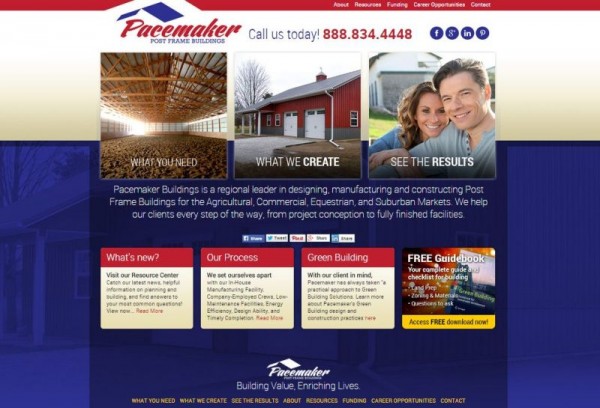 Pacemaker Buildings came to Digital Hill with a common problem, they needed a website and an online marketing solution.  Their list of needs and issues included:
Website and Online Marketing Issues to be Resolved:
Website was not update-able by them
Site was not mobile friendly
Galleries of completed projects looked dated
Website traffic was not growing
No lead capture incentives available on the site
No social media presence
Uncertain if current SEO agent making a difference
Not easy for visitors to find important pages
The Pacemaker Building website issues were not new to Digital Hill.  In fact, a majority of sites created these days are "redesigns" or new websites to replace existing sites.  The web changes fast, and with the massive growth of smartphone and tablet use in the past 2 years, many businesses are faced with similar problems….their sites no longer meet the needs of their customers and prospective customers.
The old website:
The old Pacemaker Buildings website was a static site with no manager area.  The site had served it's purpose for years, but was not performing in this digital age.  They could not add new pages, it was nearly impossible to navigate on a mobile device, and it was not helping to capture new leads.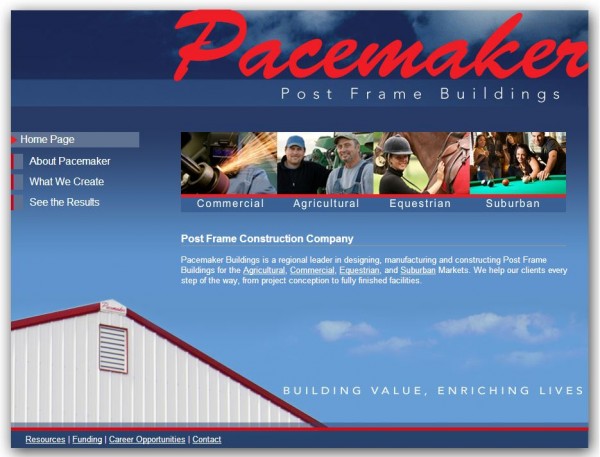 The Website and Online Marketing Solution
The first step in Digital Hill's solution for Pacemaker was a Digital Marketing Audit. The audit is based on the Digital Marketing funnel strategy used by our team for ourselves and our clients.
It uses a comprehensive strategy with the website as the foundation, a content marketing develop method to continually have new, helpful, resource-rich content being published, and uses social media and digital ads as tools to grow traffic, amplify key content and increase engagement.  All of this is customized according to the unique goals and ideal audiences of the client.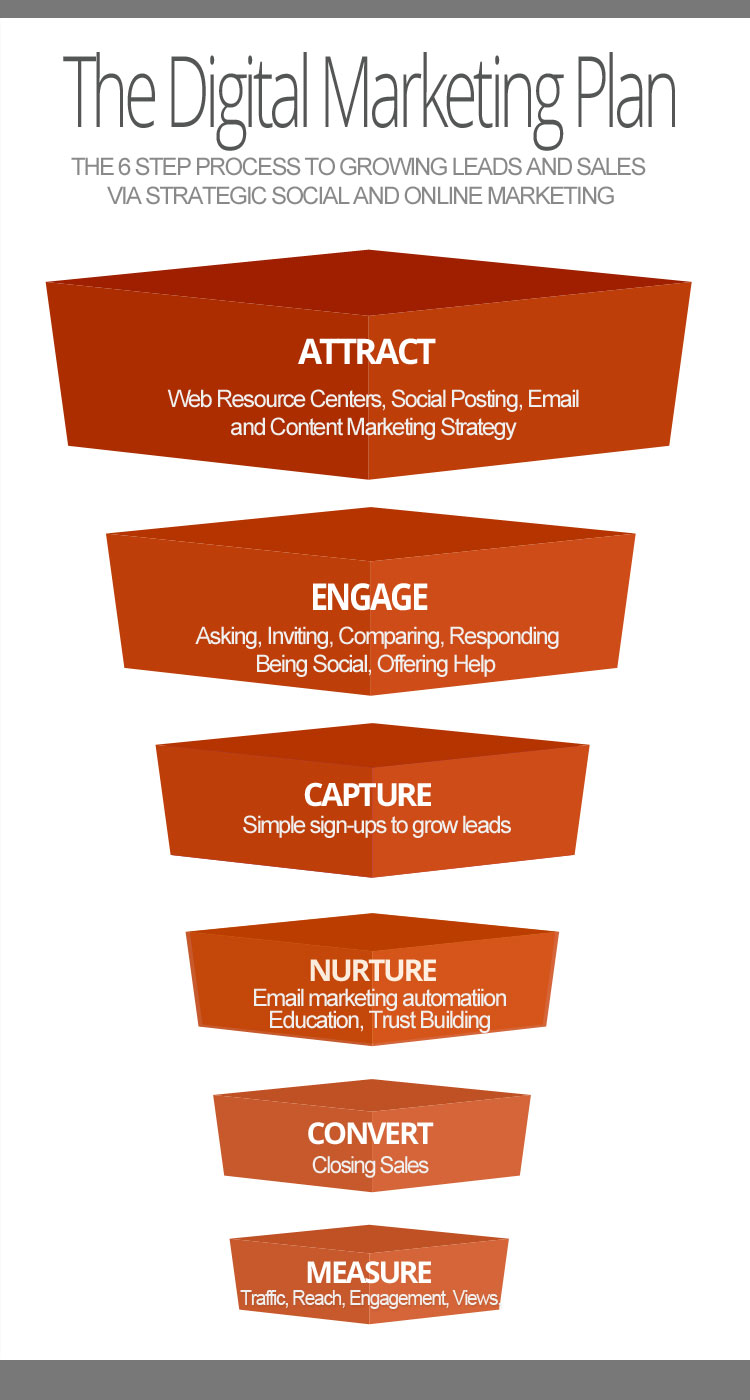 The audit included research on their site, competitor sites, and ways to increase lead capture and grow site traffic, all of which included the intent to grow more sales.  Findings for Pacemaker included identifying opportunities in their market for content to grow their footprint online and attract more of their potential ideal client type to the site.
Pacemaker Buildings Online Marketing Solutions:
A new Responsive Website (web, mobile, and tablet friendly)
Content Management System enabling new pages and new content to be added at any time
A Blog Resource Center with Lead Capture tools and Social Sharing integrated
A Gallery that can be added to for main sections and client showcases, each with images ready to be shared socially
Creation of a Facebook Page, Pinterest Business Account, LinkedIn Company Page, Twitter account and gaining access of the Google Plus Business page.
Email marketing with automated email nurture campaigns
Three unique types of website lead capture options on the site beyond the contact form
Ad campaigns for amplifying content on Facebook, capturing leads, and retargeting web visitors with Ads back on Facebook
A content strategy for producing new blog resource articles a few times a month
A social media posting, image sharing, and engagement strategy
Together these initial items are together helping to grow traffic for Pacemaker Buildings (up nearly 1000 visits in the first month of the site being live), engage a ideal community on social media, and capture leads that are then followed up with via email marketing nurture campaigns all while being monitored and tweaked on a weekly basis.
Below is a view of the mobile site: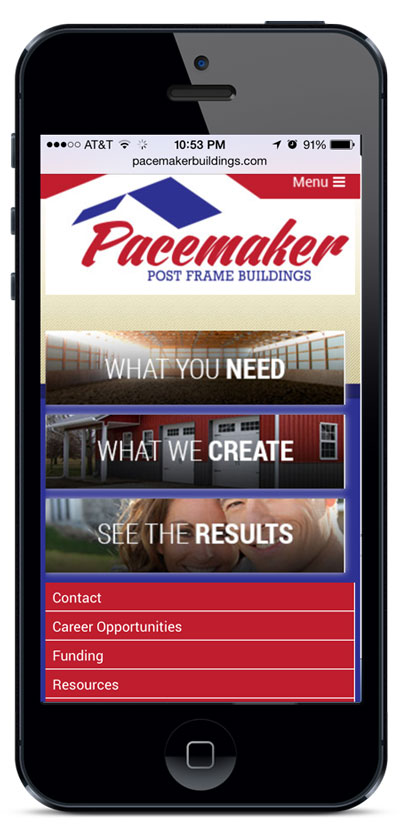 Any questions on the Pacemaker Buildings online transformation?  Let us know below!