Website Launch Announcement: Goshen Chamber of Commerce Launches a New Website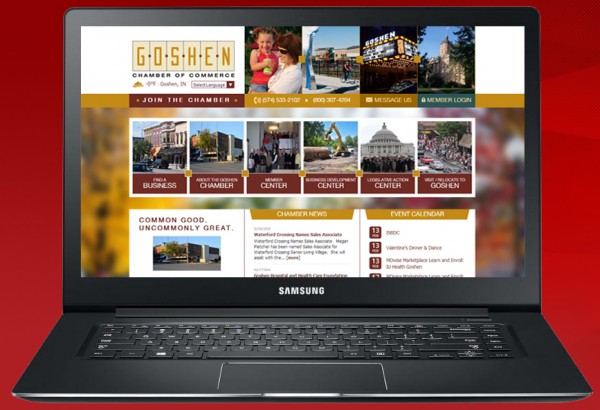 Common Good. Uncommonly Great
Digital Hill is pleased to announce the release of a new website for the Goshen Chamber of Commerce.
The Goshen Chamber of Commerce is a business association dedicated to building a vibrant community where business can grow and prosper. Located at the corner of Main Street and Jefferson Street in downtown Goshen, the Chamber is the driving force and advocate for the interest of the Goshen business community. More than 500 Goshen area businesses proudly call themselves members, and the Goshen Chamber member businesses employ more than 17,500 fulltime and 700 part-time employees.
The Goshen Chamber came to us with the intent to design a fresh new look and to build a digital hub for local businesses and chamber members to be able to find relevant local business information and to easily connect with one another A few of the goals with the new website were to make it faster, easier to navigate for users, and easier for the Chamber to manage and update the site via a Content Manger System.
The new website offers six major sections that bolster the Goshen business community:
Find a Business—Use the business directory search to find a local business.
About the Goshen Chamber—Learn about the Chamber's mission statement, staff, board of directors, and how to become a member.
Member Center—Search for current events, local hot deals, job postings, and service skills granted to chamber members.
Business Development Center—Find business opportunities: LaunchPad Goshen, small business counseling, and available space in Goshen area.
Legislative Action Center—Get involved with Indiana legislation to grow your business.
Visit/Relocate Goshen—Learn why Goshen is an uncommonly great place to live and work.
As Goshen Chamber of Commerce has an objective to build a community where businesses can grow and prosper, Digital Hill has an objective to build digital assets for clients that accomplish their objectives. Therefore, we utilize the DH Digital Marketing Funnel to build, monitor, and measure our client's digital presence. Specifically, we use a six step process to growing leads and sales through strategic social and online marketing activities.
The Goshen Chamber of Commerce's new website plays a pivotal role in attracting and engaging their target audience. As a result, more people and businesses are educated on the opportunities available in the Goshen area, which increases the chamber membership and enhances the local community and economy.
Digital Hill is pleased to work with the Goshen Chamber of Commerce and to help play a role in building the local community. We encourage you to visit www.goshen.org and see for yourself the level of quality and helpfulness.