Website Launch Announcement: Heraeus Kulzer Launches a Refining Profit Calculator Website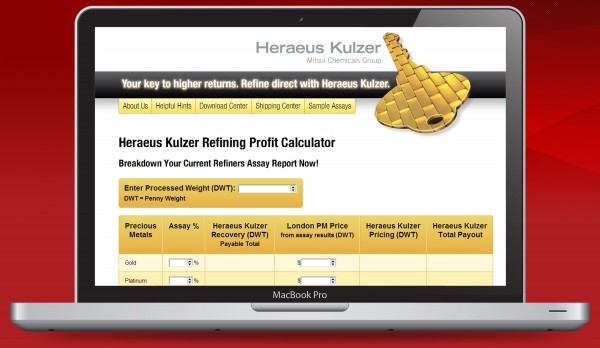 Digital Hill is excited to announce the launch of a new website and online tool for the U.S. division of Heraeius Kulzer, the Heraeus Assay Refining Profit Calculator.
Heraeus Kulzer GmbH is one of the world's leading suppliers to the dental industry and its Dental Materials and Digital Services divisions supply dentists and dental technicians with an extensive product range, covering cosmetic dentistry, tooth preservation, prosthetics, and digital dentistry.
Moreover, Heraeus Kulzer is one of the leading dental alloy refiners in North America with over 50 years experience. They provide the most accurate, efficient assays in the business, and countless laboratories trust Heraeus to provide exceptional service and integrity. Therefore, we were honored when Heraeus asked Digital Hill to develop their new refining profit calculator website.
Heraeus wanted to provide dentists a multi-functional tool that allowed them to create detailed refining assay reports in order to compare profitability against their current provider to help the dentist see the Heraeus value. Digital Hill took this opportunity and melded the following features into a beautiful and user-friendly website.
The most important aspect of the website, of course, is the Heraeus Kulzer Refining Profit Calculator. Here, the dentist enters the Processed Weight, Precious Metals' Assay Percentage, and the London PM Price, and then the calculator automatically generates the Total Payout. Moreover, the calculator can provide the percentage difference from other refiner payouts.
There is a simple, one-click step in selecting UPS return labels designed for easy shipping and a Shipping Center that walks the user through the complete process of shipping.
On the manager side of the website, Digital Hill's custom developed content management system (CMS) provides Heraeus with a high degree of freedom with the ability to add, edit, delete, and organize pages and content.
Digital Hill is pleased to have had the opportunity of building the Heraeus Kulzer Refining Profit Calculator and even more pleased to be able to help Heraeus create a new "sales closure" tool as part of their online marketing strategy.  We encourage every business to use the Digital Marketing Funnel to grow leads and sales online.  The value of a online web tool like this Heraeus calculator is the ability for potential customers to calculate the ROI of moving to Heraeus and the profitability that can occur.  This fits perfectly with what we outline regarding the conversion part of the Digital Funnel where, the key is to answer visitors final questions, demonstrate the ROI potential to them clearly, and remove final barriers and distractions. Want to learn more? Read about this on our blog at: digital marketing conversion keys.
Is your business in need of helping potential customers easily see the value and financial benefits of your products or service?  Contact Digital Hill to discuss with our team ways that we can help your business grow more leads and leverage online.